Average Engagement Ring Cost: Analysis, Factors, and Breakdown
Angelica Frey | July 31, 2023
Angelica Frey | July 31, 2023
Unsure how much the average engagement ring will cost? Our guide will help you understand all the factors that go into the price of engagement rings and help you understand the entire process.
An engagement ring represents love and commitment, and it symbolizes the act of building a future together. Symbolism and metaphors aside, an engagement ring is also a significant investment in terms of research, planning, and, yes, money.
The cost of an engagement ring has been a hot topic and a source of debate for at least 80 years, when engagement rings featuring a center diamond became a signifier of wealth and prestige. Investigating the average cost has many variables that are not necessarily tied to wealth, as different cultures have different tastes regarding opulence, style, and stone sizes.
Average Engagement Ring Cost by State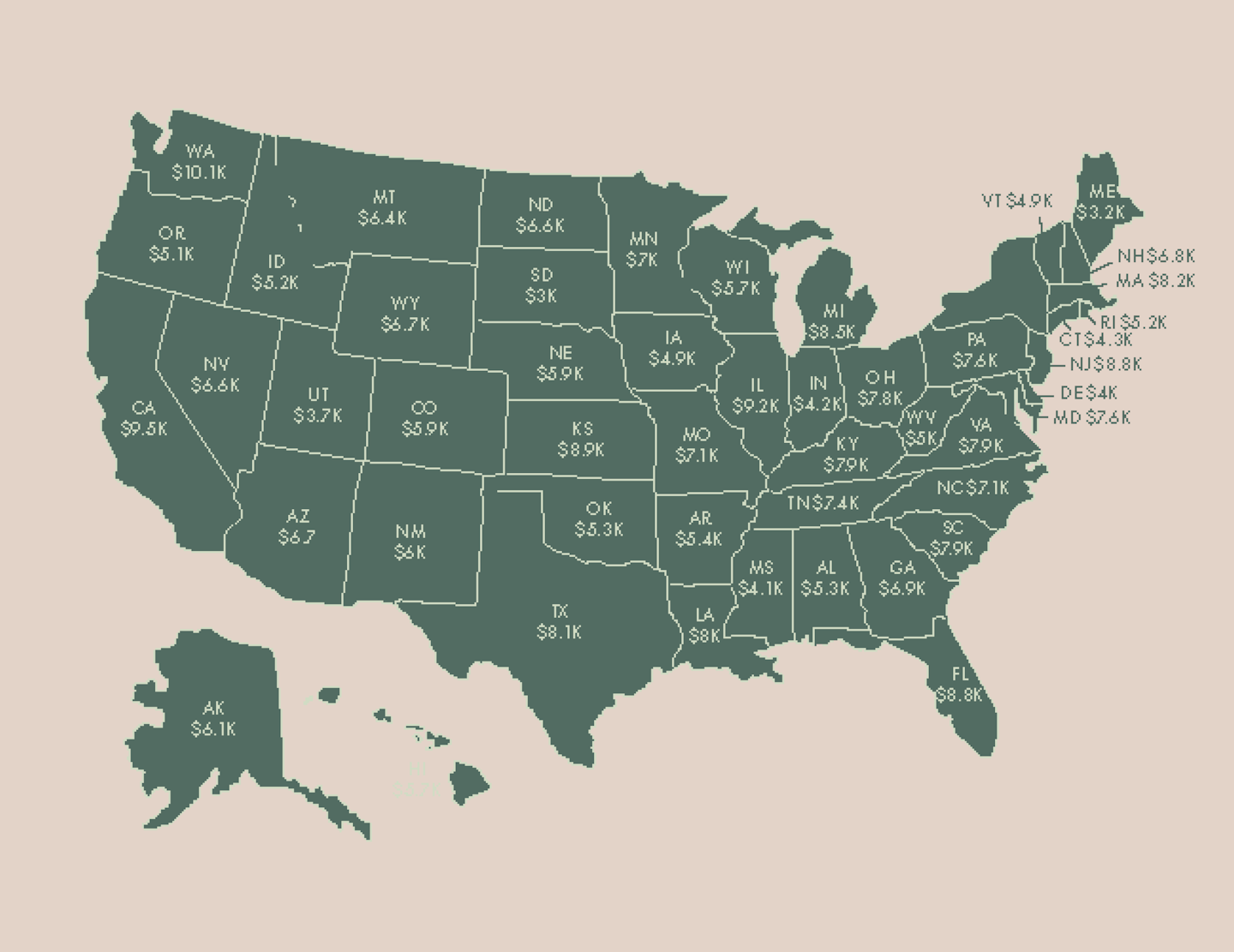 What Is the Average Cost for an Engagement Ring?
Both trade publication Rapaport and wedding-planning resource The Knot reported in late 2022 that, for 2021, the average cost of an engagement ring in the United States was $6,000. They both note that the industry was just starting to rebound after COVID-19 affected the industry.
In April 2023, CNN reported that Signet Jewelers, the largest jewelry company in the United States, observed that "the pandemic dented sales of engagement rings as relationships faltered or never even blossomed in the first place due to the lockdowns."
This reflects an overall tendency where the average cost of an engagement ring varies year over year and is subject to expansion and contraction reflective of the economy. "Couples paid an average of $4,000 on engagement rings in 2012 (and another $1,000 for her wedding band, and $500 for his)," reported The New York Times, citing a 2013 report from Jewelers of America. "That is about 25 percent less than the average spent on engagement rings in 2006, or $5,317, before the economy collapsed, according to another report by the group. In 2011, couples spent $3,538 on average."
The cost varies not only by year, but also by region. According to The Knot and their aforementioned report, the mid-Atlantic has the highest average outlay at $7,900, while the midwest has the lowest at $5,200. New England, the southwest, and the southeast average $7,400, $5,500, and $5,300, respectively. In the European Union, the average is €2,300, with marked differences from country to country, reports wedding-planning resource Ready to Ask, marking that Germany averages around €1,000.
Data collected internally by VRAI offers different insights "The average bridal order value (including engagement rings, wedding bands, and loose diamonds) is in the range of $3,500 to $4,000," relays Grace Taylor, VRAI's Senior Director of Sales and CX. "This has been pretty consistent over the past few years—though the average carat weight you can get for that price has risen."
Engagement Ring Spending Myth: X Months Salary to Spend on a Ring
The 1930s regaled us with extremely elegant pieces for Art Deco jewelry and the height of Old Hollywood glamor, and the decade also originated the concept that true love could only be demonstrated by the purchase of a ring worth one month of a buyer's salary.
In the 1980s, one month became two months, and eventually, three months. "The idea was embedded in popular culture in the West by an advertising drive from the De Beers diamond cartel that started in the lean years of the 1930s," reports The BBC. "The Depression was a disaster for De Beers, which controlled 60% of rough diamond output. De Beers embarked on what it now describes as a "substantial" campaign, linking diamonds with engagement."
Today, one's purchasing power doesn't have to define a specific level of commitment, and with the availability of lab-grown diamonds, high-quality diamonds can be purchased for a fraction of the price tag of traditional, mined diamonds.
How the Center Diamond Influences Pricing
The center diamond is generally going to be the most expensive part of your engagement ring purchase. There are exceptions, of course. Some people like a very petite center stone, while others choose to put a middle-of-the-road priced diamond in a very expensive custom setting.
"People's tastes can change over time, but if you buy a gorgeous diamond, it can be reset over the years into a new setting style that better suits your current aesthetic," says Taylor. "Of course, you can also upgrade your center diamond over the years, if you decide you want something bigger or better."
In the case of VRAI created diamonds, the pricing differs from conventional pricing because of the company's vertically integrated model. "Most jewelry companies do not own their entire diamond inventory, and instead purchase them from wholesalers," explains Taylor. The wholesalers will set a price for the diamonds, and the jewelry company will mark up the wholesale price to the consumer. "In these cases, shapes with higher demand (i.e. Rounds) have higher prices, because the wholesalers know that people are going to be willing to pay that premium."
VRAI has a very straightforward pricing structure based specifically on the characteristics of the diamond (all 4 cs), and it doesn't vary based on diamond shape (so a 2.00 ct E color VS1 excellent cut emerald will be the same price as a 2.00 ct E color VS1 excellent cut round brilliant). We're very transparent with our pricing, and the current inventory displays the prices of all of VRAI's ready-to-ship diamonds.
If you're looking for a lab grown diamond we don't have ready-to-ship, we can cut a rough lab diamond into the exact specifications you want with our exclusive bespoke diamond experience, Cut for You™. With Cut for You™, you can select a lab grown diamond in 30 available shapes and any size, from 1 carat to over 10 carats.
How the Setting Influences Cost
The center diamond largely determines the cost of your engagement ring, but it's not the sole determining factor. The average cost of a VRAI designed setting in 18k gold is $1,600, while best-selling solitaire settings start at $1,050.
More ornate settings and side stones will result in a price increase. For example, there is a price difference of $200 between a plain and a pavé band for the same ring setting. A Three Stone engagement ring setting with 0.25 ct side stones costs $1,550 with Baguette side stones, $1,750 with Pears, Rounds, and Trillion side diamonds. All the variables aside, the center stone will impact the final price more significantly.
Lab-Grown-Diamonds Allow You to Maximize Results At Any Price Point
Lab-grown diamonds have a lower cost compared to mined diamonds, due to fewer middlemen and less required labor. Mined diamonds are still more widely known by mainstream audiences, which drives up demand, and in turn, drives up pricing.
Just to give an example, a 1-carat D, VVS2, Ideal cut VRAI created diamond costs around $1,800. A mined diamond with the same parameters will cost around $7,000. "According to the sampling of lab-grown diamond prices the analyst included in his State of the Diamond Market report for February 2023, the price of a 1-carat lab-grown diamond in Q1 2023 stands at $1,450, sliding 27 percent in two years (Q1 2021 price: $1,980)," reports National Jeweler.
Lab-grown diamonds are chemically, physically, and optically identical to mined diamonds. They are, by all means, real diamonds and also test as real because they're made of crystallized carbon, as are mined diamonds. Lab-grown diamonds are graded by independent gemological organizations on their diamond 4C's - cut, color, clarity, and carat weight. Each lab-grown diamond is unique and by no means inherently flawless – they will differ in color and quality just as a mined diamond would. Lab-grown diamonds will be graded and tested just the same. VRAI created diamonds and jewelry are made in-house via renewable energy. This means that VRAI can offer the highest quality lab-grown diamonds for less.
Stay in touch and enjoy $100 off
Sign up for email or text and receive $100 towards a VRAI purchase over $750.
Cost-Saving Tips When Shopping for the Center Diamond
It's only natural to look for the highest-quality item and for some money-saving tips at the same time, irrespective of actual purchasing power. Taylor has one main piece of advice when trying to navigate the 4Cs when shopping for a diamond and finding a good deal.
"Keep in mind that the 4cs are a rarity scale, not a quality scale. There are beautiful options in every category and simply maxing out each one won't necessarily get you a more beautiful diamond!"
Carat Weight and Size
A larger carat weight is always going to mean a more expensive diamond. If you want to maximize your budget with carat weight, choose a diamond shape that looks bigger on the hand because it holds its weight from the top. Think elongated shapes such as Ovals, Pears, Marquises, and Emerald. "Or choose a round brilliant," says Taylor, "the sparkle is going to make it look bigger!"
Clarity and Color
Clarity and color can be a cause of concern for inexperienced buyers, as the presence of inclusions and color is often portrayed in a completely negative light, and their impact on the appearance of the diamond is overblown. "Clarity is assessed under 10x magnification and not with the human eye, so you really don't need to get into the highest clarity levels if you are looking to be budget-conscious," says Taylor. "On nearly all shapes, the VS range is as high as you need to go, and you can often find beautiful options in the SI range as well!" VVS and higher are your luxury ranges, great in terms of rarity, but they won't make an impact on the visual look of the diamond on your hand.
As for color, "most people aren't sensitive to a diamond's color until you get to the I color range, and I colors can even look nice and white set in white gold or platinum," Taylor advises. "If you want to minimize the visible color in your diamond, setting it in yellow or rose gold will help make even a J diamond look whiter."
Color is also a matter of personal preference: this writer finds a little bit of color in their diamond absolutely stunning. "Color isn't a bad thing in a diamond, it's just that more colorless diamonds are more rare," Taylor reassures.
Cut
Cut should always be prioritized, but keep in mind that only Round diamonds have a standardized cut grade. The other cuts rate "Symmetry" and "Polish" first, and you can infer what their cut grade would be by taking those two grades into consideration.
Symmetry indicates the degree of precision of the facets in terms of alignment and intersection. Polish refers to the degree of smoothness of the diamond's facets.
"A well cut diamond is going to appear larger than a poorly cut diamond because it'll be more sparkly! Cut is one of the easiest characteristics to max out without seeing an overwhelming impact on your budget," advises Taylor.
How Non-Traditional Engagement Rings Can Accommodate a Budget
If budget is a concern, consider a non-traditional engagement ring. "Unique center stones are going to cost more than melee diamonds, so if you are looking to be particularly budget conscious, a diamond band can serve as a gorgeous engagement ring at typically a fraction of the price," says Taylor.
This is due to the way that melee diamonds are graded: they're batch graded rather than individually certified, which is a process that is less expensive.
"Band stacks are so easy to add to over time, if you so choose, so that you can spread the investment out over many years rather than paying for one large item upfront," says Taylor.
And let's not forget that non-traditional engagement rings also work for people who want something a little different than the norm, irrespective of money.
Love Is Priceless
Whether your wedding set costs less than $1,000 total or you have an engagement ring in the mid-five-figure range, what ultimately matters is that you end up having a happy marriage or partnership.
If you'd still prefer some help going through the purchase process, you can always ask our experts for guidance.
Sources
"How Much Are Consumers Spending on Engagement Rings?", Rapoport News, September 6, 2022
"35 Engagement Ring Trends and Statistics for 2022," 1StDibs, February 1, 2022
"How Much Should You Spend on an Engagement Ring in 2022?," American Express, February 14, 2022
"4 Predictions for the Diamond Market in 2023 and Beyond," National Jeweler, February 15, 2023
"Engagement ring sales are down sharply, according to America's biggest jeweler," CNN, April 25, 2023
"Three Months' Salary for an Engagement Ring? For Most People, It's More Like Two Weeks," New York Times, February 13, 2019
"How an Ad Campaign Invented the Diamond Engagement Ring," archived from The Atlantic, February 13, 2015
"De Beers myth: Do people spend a month's salary on a diamond engagement ring?" BBC Magazine, May 16, 2014