Your Ultimate Diamond Buying Guide
We are proud to offer our customers a vast array of engagement rings featuring VRAI created diamonds to choose from. But for those who might be unfamiliar with diamonds and fine jewelry, the options might feel overwhelming at times, particularly when it comes to such an important purchase. That is why we've prepared your ultimate diamond buying guide — a cheat sheet with everything you need to know before finding the ring you'll say yes to.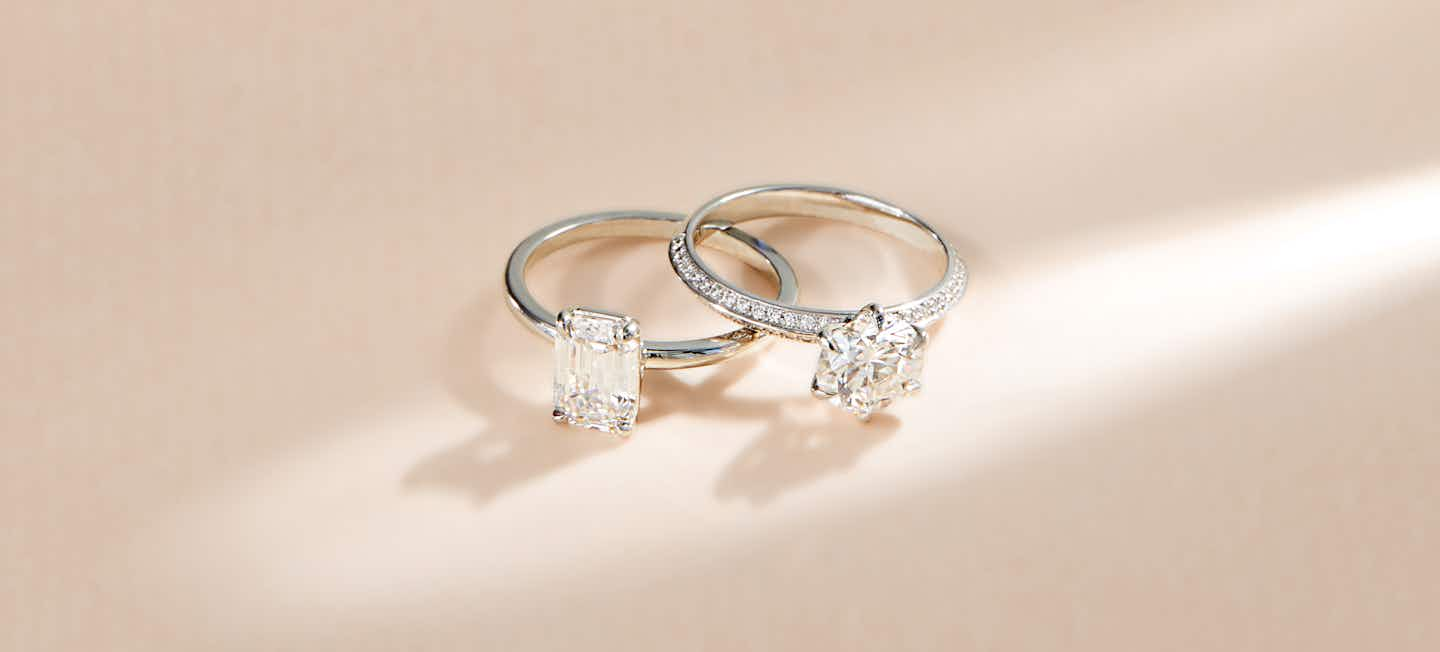 Set a budget
You may have heard the general rule that an engagement ring costs the equivalent of two months' salary. Calculating what this sum is for you personally is a great way to begin budgeting and/or saving. But looking at your options on our website will also help you financially plan as you'll be able to compare the prices of rings with your preferred style and carat weight.
When browsing our engagement ring options, you will be presented first with the price of the setting (the style of the ring), and then the price of the diamond(s) that will go in the setting. We offer price filters on our website that will help you stay within your budget and make finding your perfect ring a seamless process. And because our diamonds come to us directly from our zero emission foundry, with no middlemen markups, you will likely be able to buy a diamond of heavier carat weight at a more affordable price.
Know your diamond shapes
Diamond shapes (not to be confused with cut, involving the diamond's facets), are often considered to be the "personality" behind an engagement ring. Understanding your or your beloved's personal style, the message or look you want to create with the ring, and the diamond shapes that you tend to gravitate towards are important steps when selecting a ring. Are you interested in something more classic and traditional? Consider timeless shapes such as the Round Brilliant or Emerald. Do you want to pair a special shape with your more expressive, avant-garde style? Try shapes off the beaten path, such as Pear, Marquise, Trillion, or Asscher to match your unique look. Are you looking for maximum brilliance, shine, and allure? Consider the large faces of Oval, Cushion, Princess, and Radiant rings for the ultimate eye-catching engagement ring.
Understand the 4Cs
Once you've decided on your diamond shape, it's time to acquaint yourself with the 4Cs, which refer to color, cut, clarity, and carat weight. While each of these elements are important to know before purchasing your VRAI created diamond, some Cs are more important than others depending on the diamond shape. A cushion-shaped diamond shows inclusions more than other shapes, so you'll want to prioritize clarity, for example, while a Round Brilliant scintillates at its brightest when you prioritize its cut. To understand which Cs are the most important for each shape, book a consultation to speak with our diamond experts.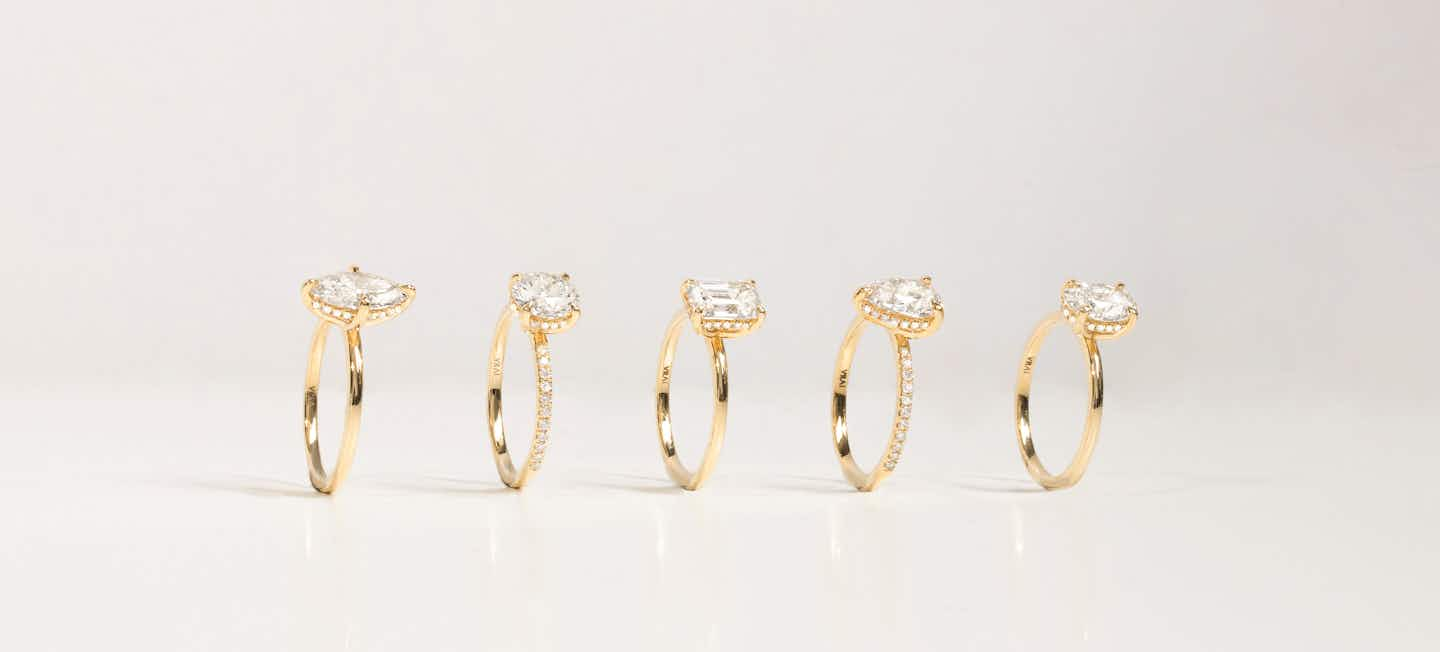 Explore engagement ring settings
Once you've discovered the diamond shape that you feel most drawn to, have set a budget for your ring, and have come to understand your 4C priorities, it's time to explore the engagement ring settings that are going to put your VRAI created diamond on full display. If diamond shapes are influenced by personality, then diamond settings are all about personal style. For someone with minimal, traditional taste, there are engagement rings from our Signature Solitaire or Classic collection; others with minimal but more avant-garde style might prefer the Knife-edge setting or Hover. If you're looking to attract attention with a dramatic design, you'll likely be drawn to our Three Stone collection, Duet engagement ring, or a pave Curator ring. And for the individual who loves a romantic, vintage-inspired look, a Signature V or Halo setting are ideal. Explore our array of engagement ring settings and discover which one is right for you.
Customize your engagement ring band
Each of our engagement ring bands are available in platinum, or 18k solid recycled yellow, white, or rose gold that can be plain or feature pave diamonds. The choice of metal and metal color is entirely personal. Oftentimes, the customers who choose a platinum band do so for the metal's durability (platinum is slightly harder than gold). Those who opt for rose gold are drawn to its regal, vintage-inspired qualities. When it comes to choosing between yellow and white gold, many have a lifetime preference for one or the other based on how they pair with their skin tone; warmer undertones are traditionally considered to pair well with yellow gold, while cooler undertones match with white gold, but this "rule" is no longer strictly followed. Perhaps the most important factor in choosing is to consider the metal color of jewelry you already wear; since you will likely wear your engagement ring every day, you want the band color to match that of the rest of your collection.
The choice of pave stones is personal, as well. The small, handset diamonds that line a pave band are perfect for both modern and more classic styles and add a delicate layer of extra brilliance to any design. A plain band draws attention to your preferred metal color and is ideal for those with more minimal taste.
Consider both your wedding bands
Your choice of wedding band, your partner's band, and how you will wear both band and engagement ring after your wedding day can greatly influence your decision. The vast majority of our engagement ring styles are designed to pair flush with our bands. Beyond this decision, other choices, like if you want your wedding band to match your partners, must be made. And if you are wanting your wedding band to match the band of your engagement ring, you'll need to decide on whether you'd like pave or plain — or if you'd like a combination of both!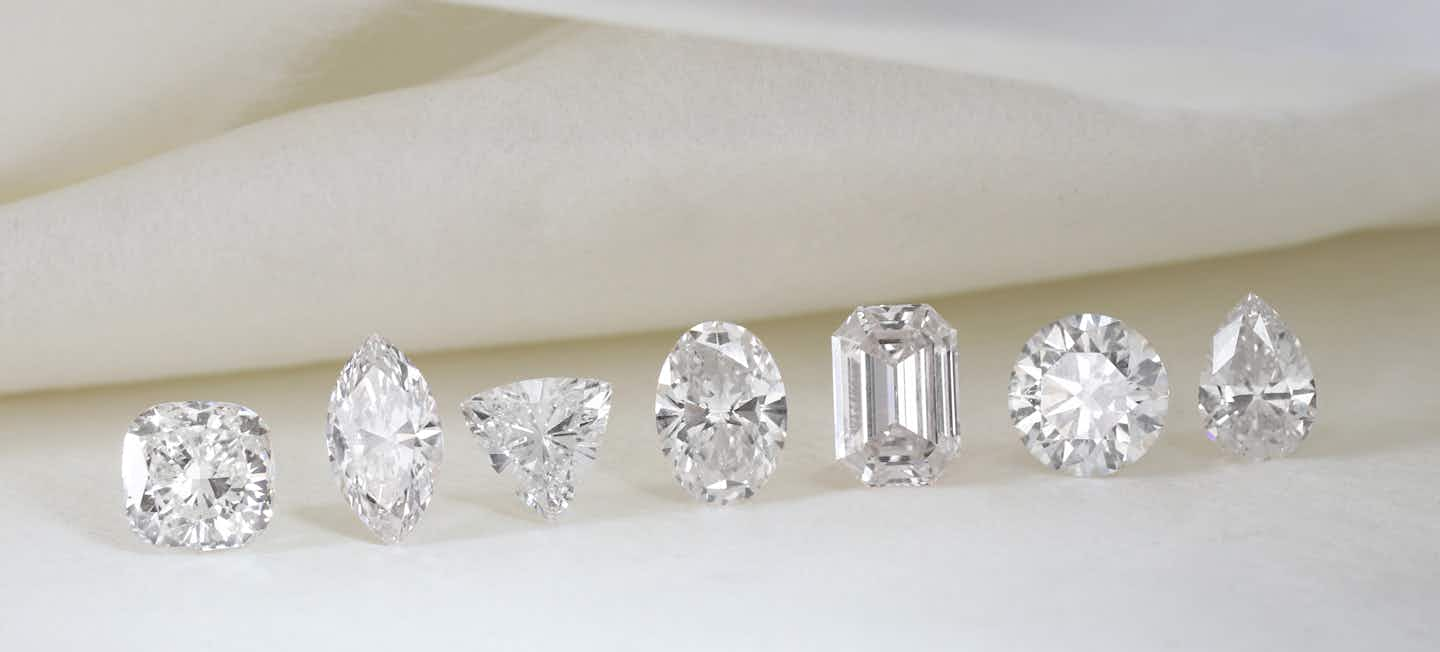 Browse for inspiration
You don't have to be an expert when you begin the process of searching for your perfect ring (that's our job!). But you might be surprised as to how informative a few minutes of exploring might be. Take a moment to consider shapes and settings off the beaten path, like Asscher, Pear, or Princess. Compare solitaire styles to Three Stone settings and don't be afraid to explore both. Consider if a Halo setting, with pave diamonds surrounding the center stone, or the Signature 6-Prong with an elevated setting, are right for you. Enter your selection process with an open mind and be ready to try one or two new styles just to compare. If you find the perfect ring but want to add this or that missing touch, customization options are then available to you to make the ring uniquely yours.
Choose with confidence
Regardless of the size of your budget, an engagement ring is often a financial investment. So enter into the process feeling at ease that your money is being well-spent — not only because of the joy it will bring, but because of the guarantee that it will last for a lifetime. Don't be afraid to ask about guarantees, warranties, and other paperwork that will ensure the quality of your purchase.
VRAI's engagement rings and diamonds come with a curated Lifetime Care Package which includes a Lifetime Warranty. Should your engagement ring have a manufacturing defect (not wear and tear that came after your purchase or a defect caused by a third party), we will replace it for you. Our Care Package also includes annual shine and one complimentary resizing, as well as a 30-day return policy.
Anticipate diamond upgrades
When you purchase or receive your VRAI engagement ring, it's hard to imagine loving any piece of jewelry even more and wanting to have a diamond upgrade. But over the years, you might want to make adjustments - or move up in carat weight - to celebrate your ongoing commitment. We love to remind our customers that, thanks to our Diamond Upgrade Program, the best is quite possibly yet to come. Anticipate future milestones such as anniversaries and vow renewals with a diamond upgrade, where any VRAI created diamond of 0.5 ctw or more can be upgraded to a diamond at least fifty percent greater in value. Learn more by reading our terms and conditions.
Talk to the diamond experts
Even after exploring our ultimate guide, letting our diamond experts assist you through in-depth diamond education and a display of your options is always encouraged. Booking an appointment with our team means that you will receive immediate feedback on all your questions concerning the 4Cs, budget, setting styles, and more. These well-loved consultations are often quite celebratory; not only can you and your beloved open a bottle of champagne and enjoy selecting an engagement ring during your appointment, but you can also return to select your wedding bands, or invite family and friends to select wedding jewelry from our Solitaire collection later on.