Hexagon Diamonds: What To Know Before Buying
Alicia Briggs | April 18, 2023
Alicia Briggs | April 18, 2023
Hexagon diamonds are anything but traditional. This linear, geometric diamond shape is the definition of unique. For those who dare to stand out and prefer rare, unusual diamonds, a Hexagon diamond may be just what you're looking for. Read on to discover everything you need to know before buying a Hexagon cut diamond, including the best settings for this daring shape.
For personalized guidance and further diamond education, VRAI Diamond Experts are here to help when you book a complimentary appointment.
What Is A Hexagon Diamond?
A Hexagon diamond is a six-sided diamond, with the same shape as its namesake geometric form. Hexagon diamonds have a step-cut faceting structure, similar to an Emerald cut diamond. This creates a "hall of mirrors" effect, drawing attention to the center of the diamond, with beautiful brilliance. Hexagon diamonds are beloved for their clean lines and unique appearance.
Stay in touch and enjoy $100 off
Sign up for email or text and receive $100 towards a VRAI purchase over $750.
Can A Diamond Be A Hexagon?
Yes, diamonds can be hexagons but Hexagon diamonds are somewhat hard to find. You may notice that some jewelers claim to offer Hexagon diamonds but they are just a Hexagon Halo or Bezel with a Round Brilliant cut center stone. You can find true Hexagonal diamonds at VRAI.
Are Hexagon Diamonds Rare?
Hexagon cut diamonds are rare. Hexagon diamonds have a complex, non-traditional shape that makes them harder to find. There is also less demand for Hexagon diamonds, which means not as many diamond retailers have the incentive to carry them.
What Does A Hexagon Engagement Ring Mean?
A Hexagon diamond is a symbolic and strong shape, thanks to its honeycomb-like structure. Hexagon engagement rings represent balance, compatibility, and strength. They can symbolize the power and harmony of your relationship.
Why Should You Choose A Hexagon Diamond?
Hexagon diamonds are the perfect choice for those who prefer a completely unique engagement ring that stands out. If you'd like to set your Hexagon diamond into a piece of jewelry or an engagement ring, you can trust that few others will have this diamond shape. Hexagon diamonds will always attract attention.
Hexagon diamonds are also a relatively versatile shape, so they can suit a wide range of settings. This shape does tend to have a vintage-inspired look, so if you gravitate towards a vintage style, consider a Hexagon cut diamond.
Are There Different Types Of Hexagonal Diamonds?
Hexagon diamonds can be beautifully cut in two different ways. They can be step-cuts or brilliant cuts. All VRAI created Hexagon diamonds are step cuts. This diamond cut does incredibly well in compact shapes, like Hexagons, as it has less light leakage and more fire.
Since Hexagon diamonds don't have consistent demand, the brilliant faceting pattern hasn't been fully refined to maximize brilliance for the Hexagon shape. Brilliant cuts tend to perform better in Round Brilliant cut diamonds, at the moment. Both a brilliant cut and step cut, however, can yield beautiful results in a Hexagon diamond.
What Is The Ideal Ratio For A Hexagonal Diamond?
Another unique aspect of the Hexagon diamond is that this shape can look stunning at different ratios. The ideal ratio for a Hexagonal diamond is up to you and your preference.
Hexagon diamonds can be symmetrical or elongated. Symmetrical Hexagon diamonds tend to have a 1:1 length-to-width ratio. This ratio will have a balanced, modern look that stands out beautifully in a Solitaire engagement ring setting. Elongated Hexagon diamonds are best for those who prefer unique ring settings such as The East-West or settings with multiple diamonds. Plus, the elongated shape can also help slenderize your finger.
How Much Do Hexagonal Diamonds Cost?
Hexagonal diamond prices will range depending on the diamond 4Cs, especially carat weight, as well as the diamond retailer. If you plan to set your Hexagonal diamond into jewelry, then the total price depends on the setting and details you choose. VRAI created 1 carat Hexagonal diamonds start at $1,400, at the time of publication.
Are Hexagon Diamond Engagement Rings A Unique Choice?
Hexagon diamond engagement rings are a very unique choice, with alluring brilliance, versatility, and beauty. Few others have this diamond shape as an engagement ring, so it's a wonderful selection for those who prefer to deviate from tradition.
Get your complimentary ring sizer!
Measure your ring size for the perfect fit right from the start.
Order yours today
What Are The Best Settings For A Hexagon Diamond Ring?
The best engagement ring settings for a Hexagon diamond ring will help highlight the unique structure of this diamond shape. Our VRAI diamond experts love Bezel or Six-prong settings for Hexagon diamonds as they cover each point of the diamond, drawing attention to its shape. These are also some of the most secure ring settings, which will help minimize chipping.
If you want to further highlight the art deco look of a Hexagon diamond, consider a pavé setting and a yellow or rose gold band for a vintage Hexagon engagement ring.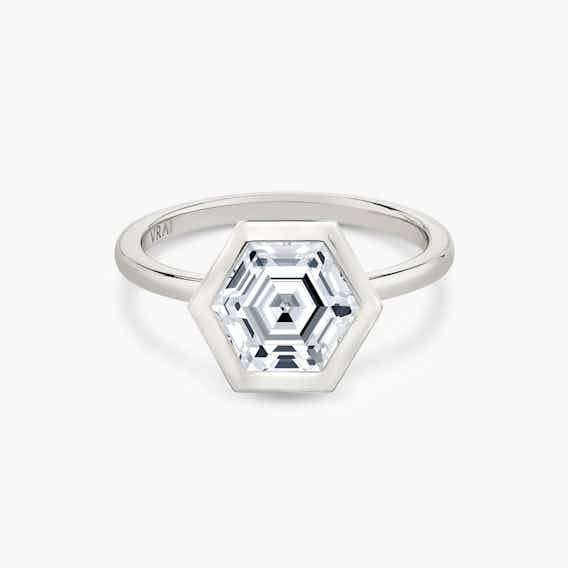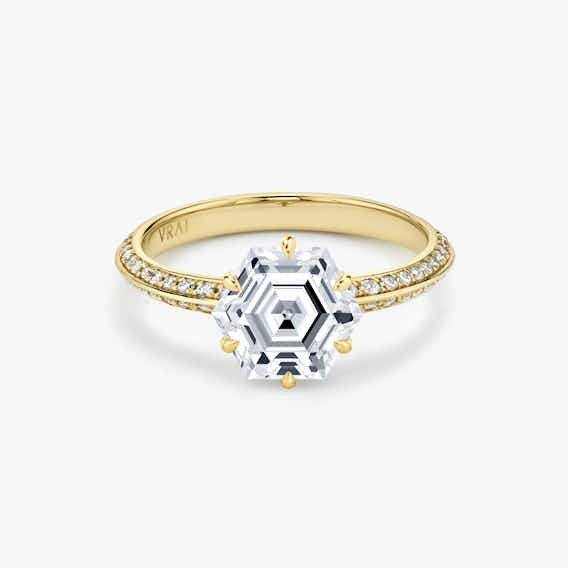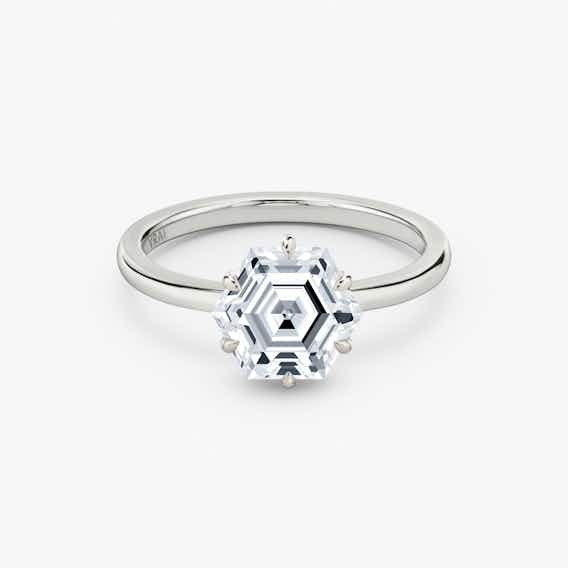 What Should You Consider Before Buying A Hexagon Diamond?
The most important 4c to consider for a Hexagon diamond is the cut grade. Higher cut grades will ensure the complex brilliance that best highlights this unique shape. All VRAI created Hexagonal diamonds have Excellent cuts with VS+ grades.
Another important thing to consider for Hexagon cut diamond rings is your lifestyle. This shape has numerous sharp corners. If you live an active lifestyle, prioritize a secure setting to help protect your ring from chipping or snags.
If you'd like to buy a diamond, consider booking an appointment with a VRAI diamond expert. They can help you understand the diamond 4Cs and guide you toward a Hexagon diamond that aligns with your budget, preferences, and lifestyle.
How To Buy A Hexagon Diamond Cut for You
Book an appointment with our diamond experts to buy a VRAI created Hexagon diamond. All Hexagon diamonds created by VRAI are available as part of our Cut for You process. This means that, unlike pre-cut diamonds, each Hexagon diamond is specifically cut and polished for you, to match your preferences.
You can begin the Cut for You process online or with help from a VRAI diamond expert. First, select a lab-grown diamond. A diamond expert will then use our Professional Diamond Planning Software to ensure that the rough diamond can be cut and polished into a Hexagonal diamond that suits your preferences and avoids inclusions. You'll receive a weekly email update informing you of your diamond's progress.
Once your Hexagon diamond is finished, you can either buy it a loose diamond or have it set into your preferred jewelry design. It will then be shipped to you with its diamond certification and Lifetime Warranty.
Why Should You Choose Lab-Grown Hexagon Diamonds?
VRAI lab-grown Hexagon diamonds are specifically designed for you. Not only are you getting a one-of-a-kind diamond, but you're choosing to buy a Hexagon diamond with no human or environmental toll. The same cannot be said for mined diamonds.
Our Hexagon diamonds are grown in our zero-emission foundry and then set into jewelry by our Master Craftspeople. We own each step of production, which means we can guarantee the origin of each Hexagon diamond and also offer the most competitive diamond prices in the industry, with no middlemen markups.
When you choose a VRAI created Hexagon diamond, you're choosing a diamond that aligns with your values and your style.