Our Engagement Ring and Wedding Band Gift Guide for Every Holiday Proposal
Our Holiday Engagement Ring and Wedding Band Gift Guide is here to bring your end-of-year engagements to life. Many choose this special time to get engaged or commit to their significant other. This is not only because the holidays are synonymous with offering special gifts, but also because it's a time to gather with loved ones and celebrate connections. When it comes to selecting an engagement ring and wedding band, sometimes the choices can seem overwhelming. In this ultimate guide, we break down our array of timeless, masterfully crafted designs into categories that speak to your individual style. Our hope is that you'll find the look that is perfect for you and your future betrothed. And that you'll celebrate this holiday season with an engagement ring and wedding band featuring VRAI created diamonds that reflect your true love and true values.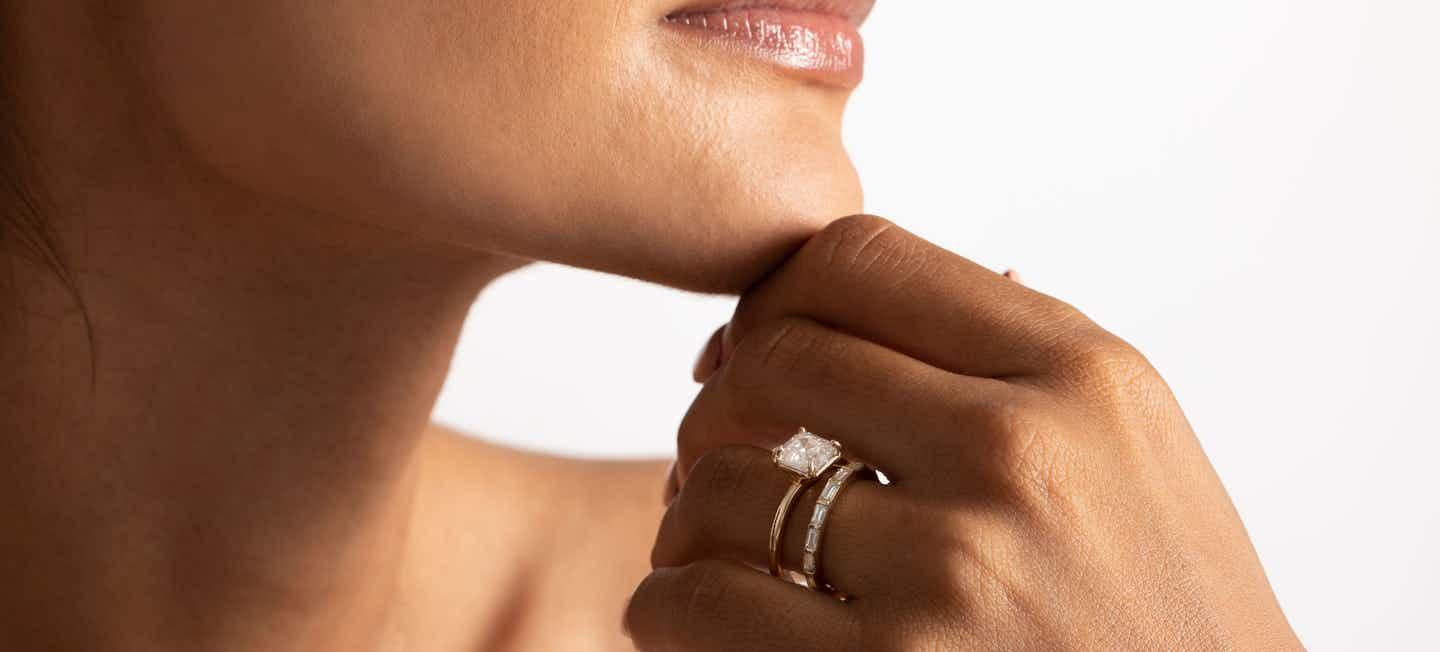 The Engagement Rings
The Signature Solitaire Engagement Ring The Signature is our response to the enduring simplicity of a classic solitaire engagement ring. It is designed to highlight one of our ten masterfully cut diamond shapes in a sophisticated silhouette. This style is customizable by choosing plain or pavé bands, platinum or solid yellow, white, or rose gold, and an East-West setting for a simple yet elegant modern twist.
The Signature 6-Prong Engagement Ring The Signature, reimagined. Elegant and timeless, the Signature 6 Prong setting is the quintessential engagement ring. With universal appeal lasting more than a century, its design accentuates the brilliance and beauty of the center stone while enhancing its security with a 6-prong head.
The Classic Solitaire Engagement Ring With fluid lines, the Classic engagement ring honors its moniker with a touch of modernity. With four curved prongs solely caressing the center stone, it's thoughtfully designed and meticulously perfected for ultimate comfort and wearability.
The Diamond Shapes
Round Brilliant shaped diamond The most popular of all diamond shapes, the round brilliant is an enduring classic with the perfect balance of proportion and symmetry.
Emerald shaped diamond One of the oldest diamond shapes and beloved for it's clean, linear lines, the emerald cut is a testament to exacting precision.
Princess shaped diamond One of the most sought-after diamond shapes today, the princess cut marries classic brilliance with modern appeal.
The Wedding Bands
The Baguette Infinity Band With a hint of deco and a dash of Hepburn, our Baguette Infinity Band exudes a quiet confidence that's both modern and nostalgic.
The Flat Band A simple yet modern band with universal appeal, the Flat is a timeless symbol of love and commitment.
The Brushed Flat Band A modern take on a timeless symbol, the Brushed Flat Band offers a more substantial look to the beloved original.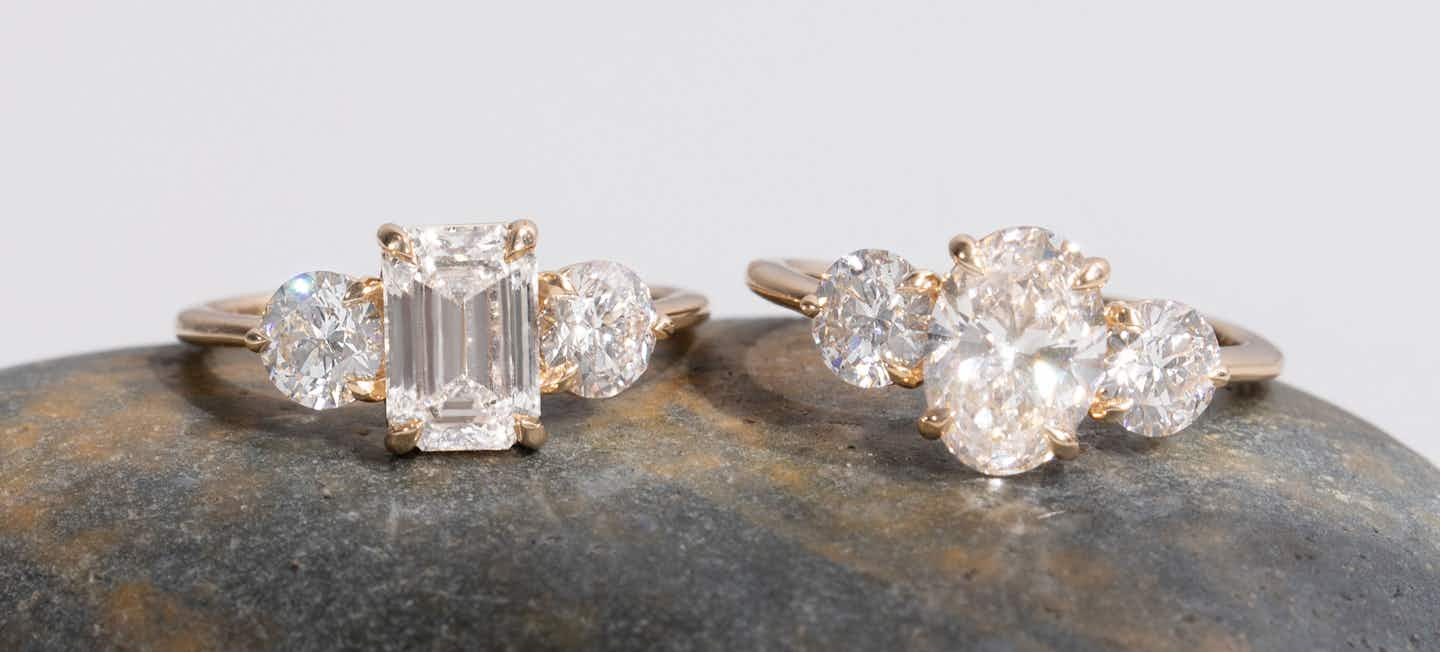 Maximum Shine
For the individuals who embrace prints, colors, and bold style — and who live by the motto "more is more" — these designs are made to stand out and shine bright.
The Engagement Rings
Three Stone Engagement Ring A nod to the past, present, and future, our Three Stone engagement rings highlight your relationship's journey with a setting that is a balance of both refined aesthetic and personal meaning. Two side stones enhance the brilliance of the VRAI created center diamond, letting your story shine with beautiful symmetry.
The Hidden Halo Engagement Ring The clean, fluid lines of our Classic solitaire engagement ring pair with an intricate array of handset pavé diamonds in this unique setting where the halo is placed within four curved prongs. The placement and matching band secure this intriguing array of VRAI created diamonds, creating an unforgettable luminary effect.
The Curator Engagement Ring The Curator engagement ring is decidedly different from any other design in our collection. A freshly rounded band balances symmetry and substance. Our cardinal setting is a distinct and thoughtful detail that puts your diamond's brilliance on display.
The Wedding Bands
Eternity Band Our Eternity band fully embodies the strength of your commitment with a wide-set band featuring a stunning array of VRAI created Round Brilliant diamonds.
Signature V Pavé Band A future classic, the Signature V wedding band is at once timeless yet untraditional. The pavé setting accentuates the bold look of this band with individually handset diamonds.
Curator Pavé Band The contoured Curator Band has a pleasing proportion with an artistic edge. Its domed design is ideal for exhibiting handset pavé diamonds.
The Diamond Shapes
Radiant shaped diamond Admired for its impeccable symmetry and fiery appearance, the Radiant offers an enchanting scintillation, making an ideal center stone.
Cushion shaped diamond A unique, contemporary, and multifaceted favorite, the cushion strikes the perfect balance between a classic round and uniform square.
Oval shaped diamond VRAI's most popular diamond shape, the Oval cut has all the classic appeal of a Round Brilliant, but in an elongated form that maximizes its carat weight.
These engagement ring and wedding band designs are sure to become a new generation of family heirlooms for those who love the regal glamour and refined details of vintage style.
The Engagement Rings
The Duet Engagement Ring Inspired by the beauty of two things coming together, the Duet engagement ring merges a balanced form with a graceful silhouette. A slender shape rounds out a refined profile that modernizes this classic ring style.
The Halo Engagement Ring Named after the pavé diamonds surrounding a larger VRAI created center diamond, the halo is at once elegant and eye-catching. Perfected during the Art Deco era, this vintage-inspired engagement ring remains a favorite today.
The Cathedral Engagement Ring A toast to everlasting beauty and elegance, the Cathedral setting is our modern rendition of a traditional design. Graceful arches are formed by the style's long architectural lines for a beautiful duality of minimal and artistic appeal.
The Signature Bezel Engagement Ring The Signature Bezel engagement ring combines historic sensibility with modern and thoughtful details. Balanced securely within a minimal gold rim, our knife-edge bezel setting draws in and bounces light in every direction so your diamond shines bright.
The Wedding Bands
The Chevron Band Thoughtfully designed, the Chevron Band features gentle contours that pair perfectly with our Duet Engagement Ring but can also stand solo as a form of its own.
The Half Pavé Band Our Half Pavé Band is a timeless beauty that will never go out of style. Wear it alone, stacked, or paired with a VRAI engagement ring to add the perfect complimentary shine.
The Round Band Our classic signature band, the Round is a timeless symbol of love and commitment.
The Diamond Shapes
Pear shaped diamond Tapered to perfection, the pear blends round and marquise shapes with its symbolic teardrop design.
Asscher shaped diamond The embodiment of the elegance of the art deco era, the asscher is a study in mesmerizing geometry.
Marquise shaped diamond A historically notable and vintage-inspired silhouette, the marquise is the picture of tradition and romance.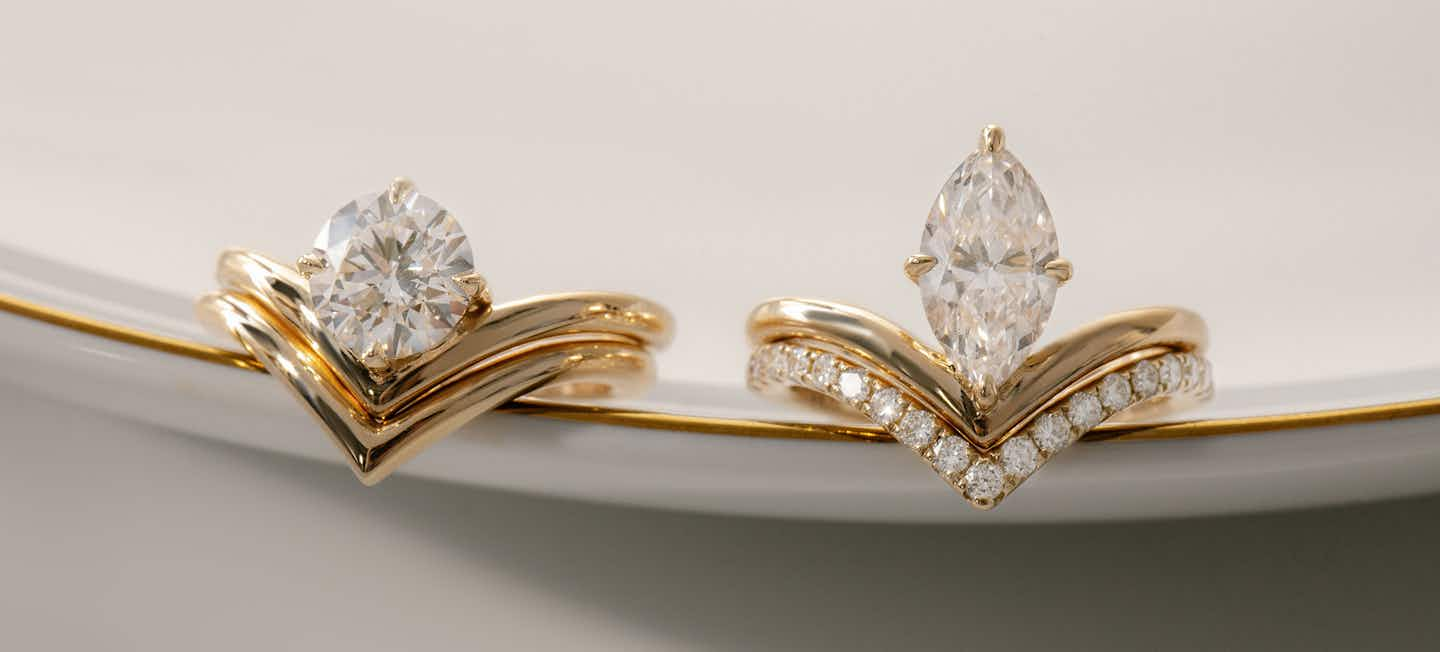 For the forward-looking couple seeking out more futuristic designs, these styles are thoroughly modern and sure to turn heads.
The Engagement Rings
The Knife-Edge Engagement Ring The Knife-Edge engagement ring is our contemporary rendition of a classic style. Sloping edges form a subtle meeting point creating an elegant silhouette with this slightly tapered band.
The Signature V Engagement Ring A future classic, the Signature V engagement ring is at once timeless yet untraditional. Contoured cusps nestle a sustainably created diamond between the band's dipping center for a unique adaptation of the classic solitaire.
The Two Tone Engagement Ring The Two Tone engagement ring combines the elegance of our Classic Solitaire design with the versatile appeal of a two-toned setting. Discover your favorite combination of band and prong metal colors for a piece that reflects the many shades of your love.
The Hover Engagement Ring Created to inspire joy, the Hover engagement ring features a floating solitaire diamond with surrealistic appeal. Our signature cup setting keeps your stone secure while hovering above your finger for an infinitely dreamy effect.
The Wedding Bands
The Knife-Edge Band The Knife-Edge Band is our refined rendition of a traditional style and is perfectly paired with your engagement ring to enhance the brilliance of your diamond.
The Signature V Band Elegant in its craftsmanship, this design can be worn with the V facing either direction and sits flush with our Signature V engagement ring.
The Baguette Brushed Flat Band A subtle twist on a signature design, our Brushed Single Baguette Band marries clean modernity with a romantic nod to the past.
The Diamond Shapes
Trillion shaped diamond A thoroughly modern diamond shape, today's trillion cut is at once soft and sharp.
Emerald shaped diamond The straight edges and hall-of-mirrors faceting of an Emerald make it an ideal shape for equally sleek, linear designs.
Oval shaped diamond Consider the Oval a more modern version of the classic Round Brilliant. It's elongated form is striking in contemporary engagement ring styles.