How Much Should You Spend On An Engagement Ring?
Kimberly Zerkel | September 29, 2022
Kimberly Zerkel | September 29, 2022
For soon-to-be-fiancés, buying an engagement ring is a joyful and often emotional process. But one of those emotions is sometimes stress. From finding the right setting to selecting the perfect lab-grown diamond, there can be many small but overwhelming details that go into choosing the ring that's meant for you. Setting a budget from the start will help alleviate some of the stress and narrow down your search.
But how do you set a budget on such an important purchase? Read on to discover the "rules" and norms on how much you should spend on an engagement ring featuring VRAI created diamonds — and then decide which ones work best for you!
Do You Have To Follow Certain Engagement Ring "Rules"?
From how many paychecks you're supposed to put to the side to how you are meant to wear your ring, there are decades' worth of engagement ring "rules." But the most important rule? Do what's right for you and your partner!
Should You Spend Two or Three Months' Salary On An Engagement Ring?
In short, no.
"The 3 month salary thing was completely made up — and made up when salaries were very different than they are today. So don't use that as a benchmark!" says Grace Taylor, VRAI's Director of Sales.
Camilla Vendrame, VRAI's West Coast Regional Manager, agrees, reiterating that the 3-month rule was created by a specific diamond jewelry company. "We live in a different time," she adds.
"My advice to customers is to spend what they feel comfortable wearing. She's going to be wearing it every single day and should feel comfortable with that dollar amount on her hand as a result," Grace adds.
Who Chooses The Engagement Ring?
The giver, the receiver, or both!
In films and on television, it's often the proposee (the person giving the ring) who selects the perfect setting and diamond for the lucky recipient. In real life, however, the recipient of the ring has often dropped a couple of hints along the way!
Many couples today choose to take the guesswork out of finding the right ring by selecting one together. One of the best ways of doing this is through a complimentary appointment with our diamond experts.
How Do You Wear An Engagement Ring?
Traditionally, an engagement ring is worn on the left ring finger. Once married, both the wedding band and engagement ring are stacked together on this finger. Couples should decide on their own what feels best for them, however. Whatever the case, be sure to measure your ring size beforehand to ensure the right fight, regardless of how you wear your ring.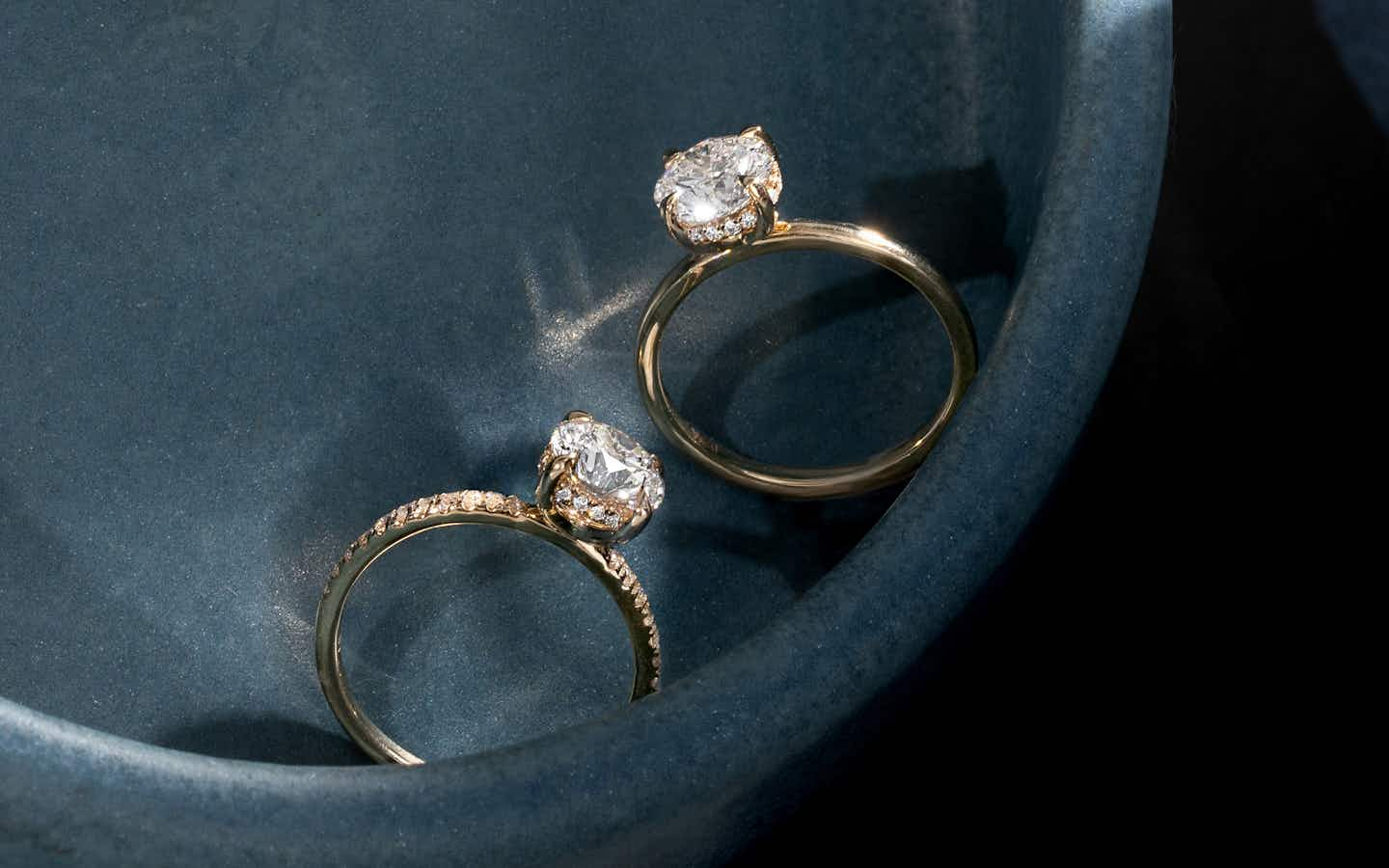 How Much Should You Really Pay For An Engagement Ring?
"Beautiful rings can be made at any price point so it's more a matter of determining what you feel comfortable with and then working within that to find the best possible option," says Grace. " Don't put yourself into debt for an engagement ring — that's why we have an upgrade program!"
What Is The Average Cost Of An Engagement Ring?
The average cost of an engagement ring for VRAI's US customers in 2021 was $4,497, while for the first three quarters of 2022, it was closer to $5,000. This means, on average, most couples spent roughly $4,700 on an engagement ring featuring a VRAI created diamond.
How Much Did Couples Spend On An Engagement Ring In 2022?
From January to September of 2022, the average VRAI customer in the United States spent $4,908 on their engagement ring. This range includes all engagement ring settings and all diamond shapes, sizes, and other diamond 4Cs.
How Much Does A 1 Carat Engagement Ring Cost?
The average cost of a 1-carat lab-grown diamond (excluding all other "Cs") is around $2,000. That price will go up or down depending on cut, clarity, and color. The average cost of a setting is $1,600, while best-selling solitaire settings start at $1,000.
Combined together, you can expect to spend $3,000-$4,000 for a 1 carat engagement ring featuring VRAI created diamonds.
What Makes Certain Engagement Rings More Expensive?
More gold and more diamonds make engagement rings more expensive. A "simple" setting like a Classic or Signature Solitaire engagement ring with a plain band is at the lower end of the price spectrum. A Three Stone, Five Stone, or Curator engagement ring are at the higher end.
Selecting a pavé band or choosing a platinum engagement ring over solid gold will also increase the price.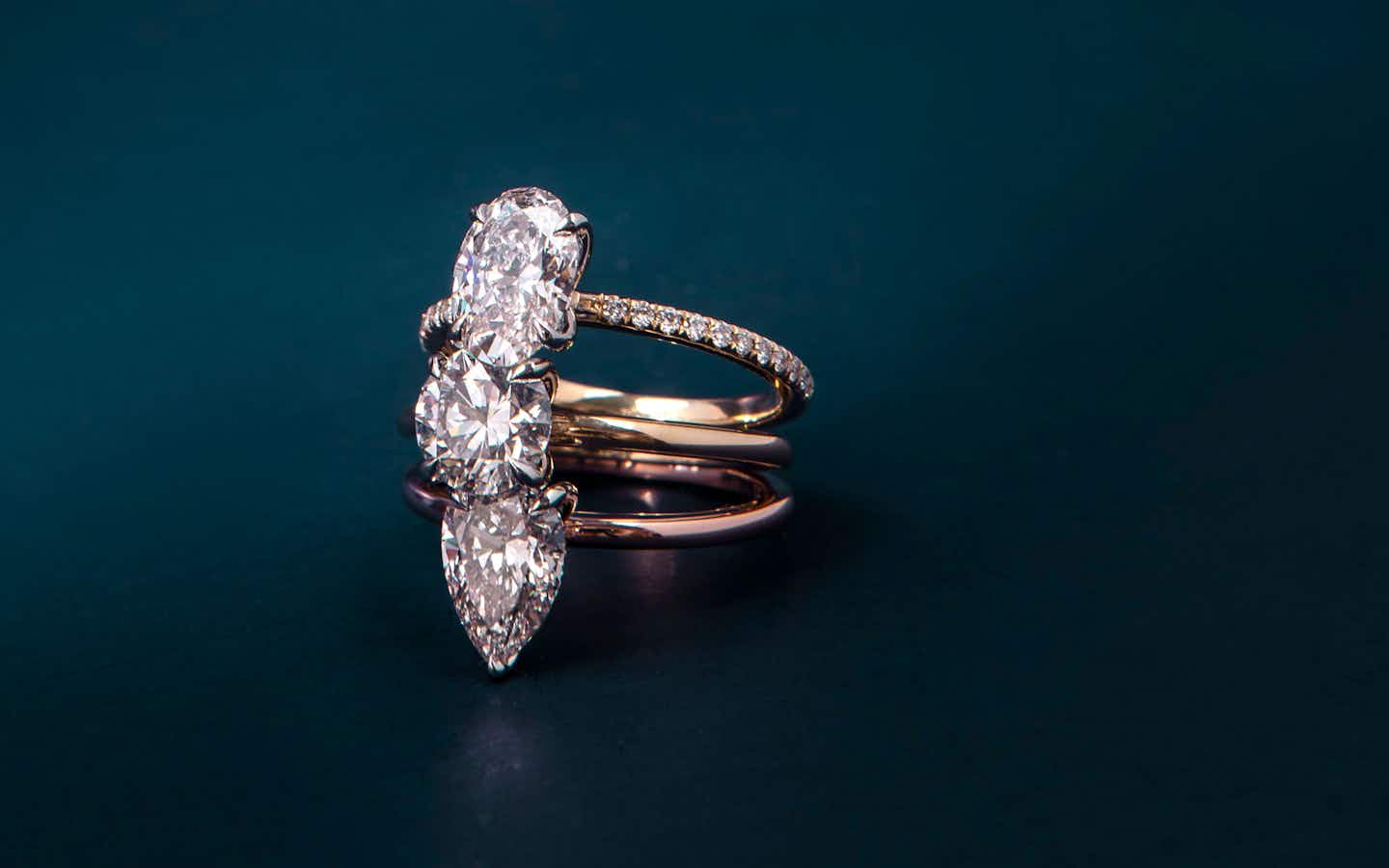 How Can You Save When Buying An Engagement Ring?
When it comes to saving on an engagement ring, it's best to decide what's important to you and then work within those parameters.
"Seek out the best value for a piece rather than looking for a deal or a discount," Grace emphasizes. "Beautiful rings can be made at any price point so it's more a matter of determining what you feel comfortable with and then working within that to find the best possible option."
Here are some tips to consider to help you stay within your budget.
How Do You Save On Carat Weight?
The difference between a 1 and 2 carat diamond will be visually noticeable. But the difference between 0.95 and 1 carat will be much less so. But selecting a diamond slightly lighter than your intended carat weight, especially if the cut, color, and clarity are the same grade, will reduce the total cost.
How Do You Save With The 4Cs?
Not only are high-carat, flawless, colorless diamonds extremely rare and expensive — but often, they aren't the best choice for your engagement ring! Choosing which of the 4Cs — cut, color, clarity, and carat — to prioritize can be helpful in reducing the overall cost of your ring.
For example, if you are choosing a Round Brilliant solitaire engagement ring in yellow gold, you'll want to prioritize cut over color. The yellow gold will imbue colorless diamonds with traces of color, so buying near colorless is a better choice. And while you might be able to tell the difference between a D colored diamond and a K colored diamond, the difference between G,H, and I near-colorless diamonds won't stand out as much — but the savings will!
How Do You Save Based On Setting?
A more minimal solitaire setting will cost less than settings with multiple diamonds, like a Toi et Moi ring, Three Stone, or Five Stone engagement ring. The metal color will also affect the overall price. 14k solid rose gold is usually the least expensive, whereas platinum will cost more.
What Are Financing Options For Engagement Rings?
An engagement ring can be a financial investment, even with the best-planned budgets put in place. So financing options are available to those who qualify so they can get the ring they want in a finance plan that makes sense to them.
Grace offers only one more word of advice here, however:
"If you're going to finance it, make sure you're able to pay it off in full during the promotional interest period or you'll end up paying a lot more than you intended," she says.
Does VRAI Offer Financing Options?
VRAI has partnered with Klarna to bring you new ways to pay at checkout. It's a safe and simple way to pay for the engagement ring and wedding bands you want, when you want it.
Pay in 4 interest-free installments, or apply for monthly financing.
Speak With Our Diamond Experts For More On Engagement Ring Cost
Take the next step in finding the engagement ring that's right for you. Decide as a couple what your budget is first. Then choose which styles of rings and diamonds fit within that budget before moving forward. Don't forget to discuss other important details, like financing, either!
Do you want expert advice in discussing engagement ring costs and setting a budget? Book a complimentary appointment with our diamond experts for personalized guidance, in-depth diamond education, and more. An added bonus? You'll receive $100 towards your engagement ring following your consultation.