How to Propose: The 25 Best Marriage Proposal Ideas for Any Season & Style
Alicia Briggs | July 27, 2023
Alicia Briggs | July 27, 2023
Proposing to your loved one will be one of the most memorable moments in both of your lives. Many people feel significant pressure to figure out how to propose perfectly with the best engagement ring. A marriage proposal is an intimate and personal event. What best represents your relationship may not represent someone else's.
If you're unsure how to propose, consider the following proposal ideas to help make this special moment less stressful and more meaningful.
How to Plan a Proposal: What Should You Do Before Proposing?
Before you propose, consider the following to ensure that you're prepared.
Consult Friends and Family
Many people choose to inform their family and close friends of their intent to propose beforehand. Your loved ones can help you plan how you're going to propose or orchestrate a surprise proposal.
Know Your Partner's Ring Size
Knowing your partner's ring size before buying an engagement ring will ensure a smooth proposal. If you're not sure how to find their ring size, order a complimentary VRAI ring sizer. Use the ring sizer to measure the rings in their collection.
Choose a Ring
There are several key components to choosing an engagement ring for your partner. Take note of their style, jewelry preferences, and any hints they've given about their dream engagement ring.
If you're unsure which ring to choose, our diamond experts can help you pick the ideal engagement ring setting when you book a complimentary appointment.
Make a Proposal Plan
Take the time to create a proposal plan that best represents your relationship. The ideas below can help you decide how to propose to your partner.
Decide What You're Going to Say
Before proposing, consider what you're going to say. While you may decide to say something different in the moment, it's helpful to prepare a loose script beforehand in case you get tongue-tied.
Summer Proposal Ideas
Summer is a wonderful time to propose, especially if you love the outdoors. Use the ideas below to inspire your summer proposal.
1. See Sunset or Sunrise: Take advantage of the clear weather and propose at sunrise or sunset.
2. Take a Boat Ride: Rent a private boat and set sail to propose. Pack some champagne, an elaborate spread, or hire a caterer to make the moment even more memorable.
3. Plan a Picnic: Head to your favorite park, beach, or viewpoint and enjoy a romantic picnic. You can bring your own supplies or hire a company to set up a truly spectacular picnic.
4. Say I Do With a View: Whether it's daytime or nighttime, a breathtaking view is perfect for a proposal. Plan a rooftop dinner, stroll through a botanical garden, sit on a mountaintop, or hike to a stunning waterfall to propose.
5. See a Sporting Event: If you two are sports enthusiasts, why not get tickets to see your favorite team play? Take advantage of a cheering crowd and get down on one knee.
6. Go on an Outdoor Adventure: If you love the outdoors, consider a camping or hiking trip to propose.
7. Visit the Beach: Take a beach getaway and go for a stroll or picnic before proposing. You can even write your proposal in the sand.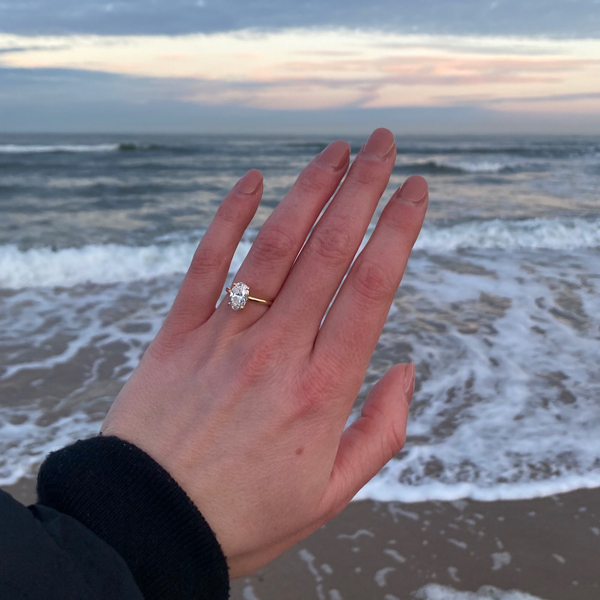 Winter Proposal Ideas
The cozy winter months filled with holidays and romance create the perfect backdrop for proposing.
8. Plan a Cabin Getaway: Few things are as romantic as curling up by the fire, in a cozy cabin, surrounded by snow. If you don't love the cold, plan a warm winter getaway to propose.
9. Hit the Slopes: If you like to ski or snowboard, head to the mountains. Propose at the top of the slopes or on the chair lift.
10. Cook a Candlelit Dinner: Create a romantic, home-cooked (or catered) dinner. Set the scene with twinkle lights, candles, flowers, and the perfect playlist.
11. Honor the Holidays: During the winter months, numerous holidays provide the perfect proposal setting. Christmas, New Year's, or Valentine's Day proposals are the most popular.
12. Say It With Music: Head to an indoor concert or symphony before proposing. For those who love public gestures, go to a karaoke bar with friends and sing your proposal.
13. Utilize the Winter Festivities: Use the holiday festivities to create a romantic proposal. Strolling through the snow or holiday lights with hot cocoa, Christmas tree shopping, or ice skating create memorable proposal moments.
14. Plan a Movie Night: Set up a cozy movie night at home or rent out a theater for a personal screening. Create a personalized proposal video and play it before the credits roll.
Simple Proposal Ideas
Not all proposals have to be elaborate or extravagant. Some couples prefer a simple, intimate moment for a proposal.
15. Say "I Do" With a Small Gift: Using flowers or chocolates is a timeless way to propose. Surprise them at home with a heartfelt message and a bottle of champagne.
16. Recreate the First Date: Most first dates aren't very elaborate, but they are highly meaningful. Recreate your first date to honor how far you've come before proposing.
17. Honor an Intimate Moment: Propose while doing something ordinary that you two love. This could be watching a movie, cooking a meal, listening to music, taking a bath, or reading in bed.
18. Draw From Your Favorites: Use the places and activities you love to create a meaningful proposal setting. Visit your favorite park, viewpoint, restaurant, or bookstore.
19. Write It Down: Surprise them by proposing with a secret message. Write it on a pizza, in a box of chocolates, a custom fortune cookie, a hidden love letter, or an unsuspecting gift with the ring inside.
20. Take a Trip Down Memory Lane: Go on a date to the most meaningful locations in your relationship. Include the place where you first kissed, or said I love you. End the date at a brand new place to create this next memorable moment.
Extravagant Proposal Ideas
For those who love to go above and beyond, or declare their love publicly, consider one of these extravagant proposal ideas.
21. Hot Air Balloon or Helicopter Ride: Rent out a hot air balloon or helicopter ride, preferably at sunset or sunrise, and say I do above the clouds.
22. Say It in Writing: Have your proposal message written in the sky, flying on a banner, or on a billboard for all to see.
23. Hire a Band or Flash Mob: Hire your loved one's favorite band or a choreographed flash mob for a public performance and proposal.
24. Go on a Getaway: Take a surprise trip to a bucket list destination, natural wonder, or monument for a truly spectacular proposal.
25. Organize a Scavenger Hunt: Create a scavenger hunt that leads your partner to you with clues from your relationship. Enlist loved ones or rent a private location to help make this proposal extra special.
Stay in touch and enjoy $100 off
Sign up for email or text and receive $100 towards a VRAI purchase over $750.
Marriage Proposal FAQ
Read on for answers to your most pressing proposal questions.
Should I Propose Before or After Dinner?
If you propose before dinner, you can enjoy a celebratory meal as a newly engaged couple. You can even have loved ones on standby to join you.
If you propose after dinner, you can enjoy an intimate celebration together. You may be too excited to eat, prefer privacy, or want to call loved ones to share the news. This can be difficult if you just ordered a meal.
How Soon Is Too Soon to Propose?
How soon to propose is a personal decision. However, relationship experts recommend waiting for the honeymoon period to pass (three months to one year) before considering marriage. Some questions to ask when thinking about whether it's too soon to propose include: where are both partners in life, have you both talked about marriage, are you on the same page with big decisions, how do you handle conflicts, and have you both met the important people in each other's lives.
Which Knee Do You Get On to Propose?
People traditionally get down on the left knee when proposing, with the right knee up. This is because people usually hold the ring box in their left hand so that they can open it with their right hand. If you're left-handed, however, you may prefer the opposite.
Is It Okay to Propose Without a Ring?
You can propose without a ring if that's what you prefer. Some people choose to propose without a ring due to personal beliefs or financial reasons.
The most common reason people propose without a ring is because they know their partner would like to pick out their ring. If that's the case, consider proposing by taking a trip to a jewelry store or with a ring box.
What Do You Say When Proposing?
Try to keep your proposal personal and from the heart. Tell your partner what they and the relationship mean to you and why you want to marry them. What you should say when proposing depends on your relationship - just don't forget to officially ask them to marry you.
How Long Should A Proposal Be?
A proposal should not be longer than a few minutes - it's best to keep it short and sweet. This will give you enough time to express your feelings while allowing your partner the chance to respond and engage.
Shop VRAI Created Diamond Engagement Rings
After you've made the decision to propose, consider a lab created diamond ring from VRAI. VRAI's diamonds are all grown in the world's first certified zero-emission foundry which means no mining, no environmental or human cost and no guilt. Discover VRAI's innovative and enduring collection of engagement rings featuring lab-grown diamonds.