Loose Diamonds: 4 Helpful Tips Before Buying
Alicia Briggs | November 30, 2022
Alicia Briggs | November 30, 2022
The diamond itself is the most important part of any piece of diamond jewelry. When it comes to creating the perfect engagement ring or jewelry design, selecting your very own loose diamond is an opportunity to make something truly spectacular and just for you. Once you've selected your VRAI created diamond, you can mount it on select rings or jewelry designs to best show off its brilliance. Below, we'll cover everything you need to know before buying loose diamonds, including what they are, and how to find the finest, highest-quality lab-grown loose diamonds.
What Are Loose Diamonds?
Loose diamonds are simply diamonds that are bought alone. Loose diamonds are fully polished and ready for sale, but they haven't been set in a ring or turned into a finished piece of jewelry.
You can find loose diamonds in all cuts, colors, and carat weights, with varying quality. This makes purchasing loose diamonds possible for any style or budget.
Why Should You Buy Loose Diamonds?
There are several fantastic reasons people choose to buy loose diamonds. People often buy loose diamonds to create true custom-designed engagement rings and jewelry. Buying loose diamonds is a wonderful option for people that already have a ring setting or want to buy their ring setting separately.
This is especially true if you're creating your engagement rings. Choosing a loose diamond that meets your specific needs and preferences is the most important part of designing a one-of-a-kind engagement ring. You can book an appointment to speak with a VRAI Diamond expert about custom-design engagement rings.
Additionally, many people choose to buy loose diamonds to pass them down between generations. Overall, choosing a loose diamond is the greatest way to ensure your diamond jewelry is truly reflective of you.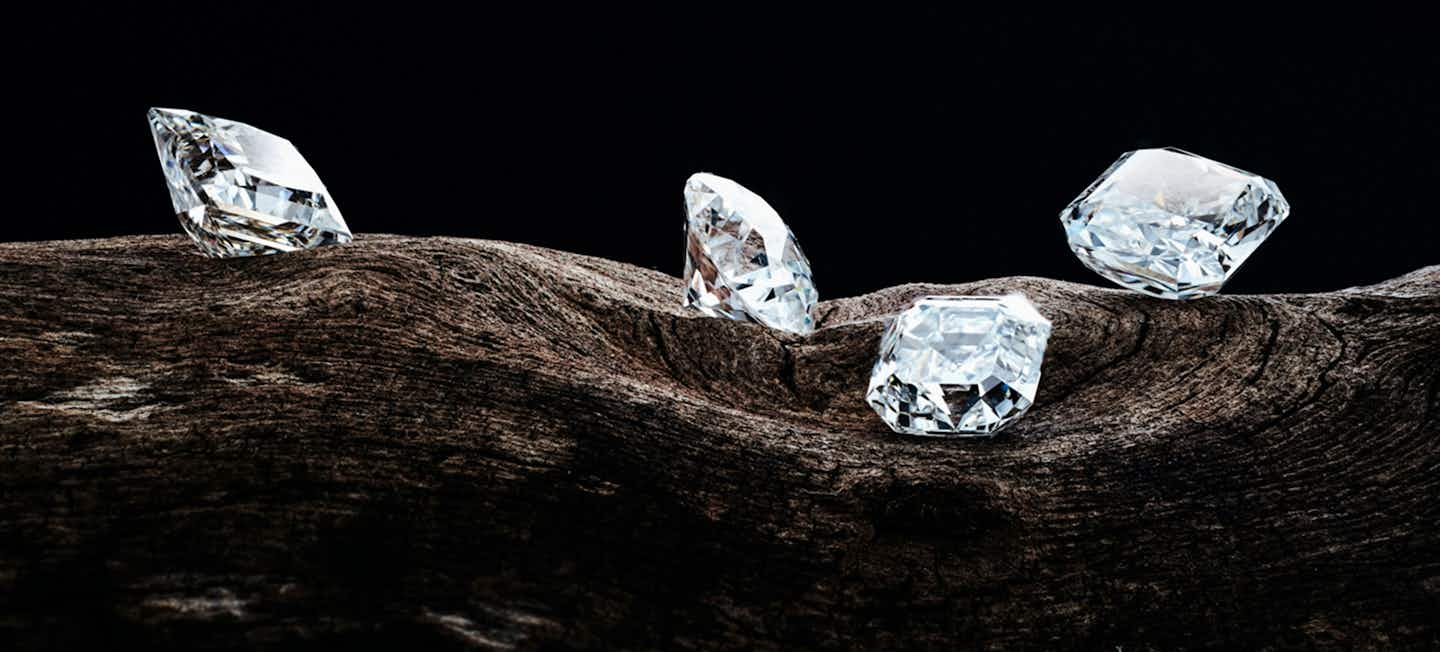 What to Consider Before Buying Loose Diamonds
There are four main factors to take into consideration before purchasing a loose diamond:
1.Loose Diamond Cut, Color, Clarity, and Carat
If you want to buy a diamond, it's important to use the 4C's (cut, color, carat, and clarity) to assess its quality.
First, determine the diamond cut. The cut is the arrangement of each diamond's facets. It's what creates your diamond's shine i.e. how your diamond reflects and refracts light. There are three primary cut styles: step, brilliant, and mixed. However, the most important aspect of the cut is the cut quality as this determines the diamond's appearance and quality of reflection. VRAI exclusively offers excellent quality cuts to ensure optimal brilliance.
Next, consider the diamond color. Diamonds are given a color grade based on the absence or presence of color. The Diamond Color Scale uses D-F to indicate Colorless Diamonds, G-J for Near Colorless, and K-M for Faintly Colored. The less color a diamond has, the rarer it is.
Another important factor when selecting a loose diamond is the diamond carat. The carat is the weight of the diamond, not the size. Higher carat weight can indicate how rare the diamond is and also affects the price. Keep in mind that different diamond shapes will affect how the diamond's carat weight is displayed. A 3-carat loose diamond or a 2-carat loose diamond won't necessarily look 2-3 times bigger than a 1-ct loose diamond.
Finally, consider diamond clarity. Diamond clarity is determined by the number of inclusions a diamond has, most of which cannot be seen by the naked eye. Diamond experts use a diamond clarity chart to measure a diamond's clarity grade.
2.Loose Diamond Pricing
When choosing a loose diamond, the price should be evaluated. Loose diamonds make it easier to understand the true worth of the diamond and confirm that the price reflects that.
The price of your diamond will depend on where you bought it, its quality, and the 4C's. This diamond table can help you find and compare the price of VRAI created diamonds based on the 4C's. You can use this to easily select a stunning loose diamond within your budget.
3.Loose Diamonds Certification
When selecting a loose diamond, it's essential to choose certified loose diamonds. Diamonds are an important purchase so it's important to understand diamond certification to ensure you are only investing in the best. Diamond certification means your diamond was thoroughly evaluated by a certified gemologist using diamond grading. This determines the value of your diamonds.
However, most diamond grading reports don't offer a guarantee or warranty for your diamonds. That's why we provide a GIA-trained Gemologist Grading Report warranted by VRAI. This means that we offer a full lifetime warranty and certification guaranteeing the grade of your VRAI created diamond.
4.Loose Diamond Shapes
Lastly, you'll want to consider your loose diamond shape. The shape of the diamond dictates its appearance. This is the most important factor in finding a loose diamond that best reflects your personality and unique style. Some popular loose diamond shapes are:
Loose Princess Cut Diamond
This beloved equilateral design is known for its strength and brilliance. Princess Cut diamonds are especially desirable for engagement rings.
Loose Emerald Cut Diamond
Emerald diamonds are one of the top three shapes for engagement rings, with clean lines that perfectly reflect light.
Loose Radiant Diamonds
Radiant diamonds offer incomparable shine thanks to their 70 brilliant-cut facets.
Loose Oval Diamond
Oval diamonds are a timeless yet modern shape with a soft silhouette. They are one of the most coveted diamond shapes, often appearing larger than their carat weight.
Loose Pear Diamonds
Pear cut diamonds have an elegant teardrop shape with a tapered silhouette that helps elongate the fingers.
Loose Marquise Diamonds
Marquise cut diamonds feature an elongated shape with pointed ends that are both playful and romantic.
Where to Buy Loose Diamonds
There are two main options for buying loose diamonds: in-store or online. VRAI created diamonds will provide you with the best selection of high-quality, certified loose diamonds with invaluable assistance from our diamond experts.
If you'd like to buy a loose diamond, you can start by using our viewing our full diamond inventory. Here you can view all loose diamonds created by VRAI and compare their shape, carat, color, clarity, cut and price. You can click on each diamond to view more detailed information about the 4C's, including its certification. Once you've discovered your dream diamond, tap "Purchase without Setting" to buy it as a loose diamond.
If we don't have the diamond you had in mind in stock, don't worry. We can cut a rough diamond exactly to the specifications you desire. With our bespoke Cut for You™ experience, you can pick the exact shape and size you want, and we'll cut a rough lab-grown diamond to your order. With 30 different shapes and minimum quality in diamond color and cut, this is an amazing opportunity to order the diamond of your dreams.
Why You Should Choose Loose Lab-Grown Diamonds
Buying loose lab-grown diamonds allows you to purchase certified, trusted diamonds. Not only are lab-grown VRAI created diamonds real diamonds, physically identical to mined diamonds, but they have a guaranteed point of origin. You can know the full history of your lab-grown diamond, including exactly how it was created and where it came from, which isn't possible with mined diamonds.
VRAI created diamonds are made by the first carbon-neutral certified diamond producer in the world. Diamonds sustainably created by VRAI make it possible to ensure that your loose diamonds are responsibly sourced and certified with no negative environmental or human toll.
Plus, choosing VRAI created diamonds allows you to pick from the best quality diamonds at an unbeatable value. We own our production process, which eliminates the middlemen so that we can provide you with the fairest pricing and full transparency.
Shop Loose Diamonds With Our Diamond Experts
Explore the beauty and quality of VRAI created loose diamonds. Our diamond experts can help you find a brilliant diamond for your engagement ring or fine diamond jewelry design. Book a virtual appointment or visit one of our showroom locations to discover a truly inspired loose diamond.