Lozenge Diamonds: A Shopping and Styling Guide
Angelica Frey | April 19, 2023
Angelica Frey | April 19, 2023
Lozenge diamonds are a classically elegant shape that fully embody the Art Deco era. Lozenge is actually the original French word indicating a diamond or rhombus shape, and a Lozenge cut diamond perfectly resembles a rhombus and is the same diamond cut featured on playing cards.
VRAI created Lozenge diamonds feature streamlined faceting and an emphasis on geometry — its four sides are cut in trapezoidal facets that stem down the side. Our diamond experts can show you how to either turn your Lozenge diamond into a fully Art Deco piece of jewelry or how to make it timeless and modern. Book an appointment to learn more about our lozenge cut diamond engagement rings.
Is a Lozenge Cut Diamond a Step Cut Diamond?
Lozenge diamonds are a type of Step-Cut diamonds that use trapezoidal facets in the shape of a rhombus, or diamond. They differ from Emerald cut diamonds because each side has the same length and from the Asscher cut because while the Asscher has a square shape with beveled corners, the Lozenge has a diamond shape with pointed corners.
Lozenge diamonds are part of VRAI's cut-for-you process, which allows you to purchase a rough VRAI created diamond that is cut and polished just for you. Thanks to the creation process that takes place in our zero-emission foundry, we are able to select the perfect rough diamond to be cut and polished to optimize yield while avoiding inclusions. Unlike f pre-cut diamonds, whose selection is limited by the current inventory, VRAI cut-for-you diamonds come in 31 different styles and larger carat weights to choose from.
Stay in touch and enjoy $100 off
Sign up for email or text and receive $100 towards a VRAI purchase over $750.
Why should I choose a Lozenge Cut Diamond as my engagement ring Center Stone?
If you love step-cut diamonds and elongated shapes, and you want something that is less ubiquitous than an Emerald cut, a Lozenge cut diamond is the right choice for you. Actually, it appeals to a variety of aesthetic preferences. "I find that the four points and elongated shape is a great recommendation for clients that are interested in Ovals, Pears and Marquise diamonds," says Queena Chang, VRAI's Chief Diamond Expert and a GIA Graduate Gemologist. "I highly recommend them for customers looking for an elongated shape with a unique cut."
What are the differences between the Lozenge cut vs Hexagon Cut vs Shield Cut?
Lozenge, Hexagon, and Shield Cut Diamonds are all step-cut diamonds with larger, trapezoidal step-cut facets that create a hall-of-mirror effect. The Lozenge cut diamond has a rhomboid shape, the Hexagon is, true to its name, hexagon-shaped, while the Shield diamond has a somewhat triangular shape with the top side bowed and the two other sides composed of two bowed edges. While Lozenge and Hexagon have been extensively used as center diamonds, Shield diamonds are mostly seen set in dangle earrings and pendants.
9 Best Lozenge Cut Engagement Ring Styles
Lozenge cut engagement ring styles share a lot of similarities with other step-cut shapes such as Emerald and Asscher. Their large, step-cut facets will create an elegant and understated hall-of-mirrors effect and their fire will be rather subdued.
Solitaire Lozenge Cut Engagement Rings
Solitaires are ideal when it comes to showing off the unique geometry and sculptural precision of the cut of your Lozenge diamond. In general, the Signature will be more low-set and more ideal for those who work a lot with their hands; the Classic Solitaire will uniquely show off and literally elevate the diamond in all of its beauty, while the Hidden Halo will subtly add a lot of brilliance to the stone.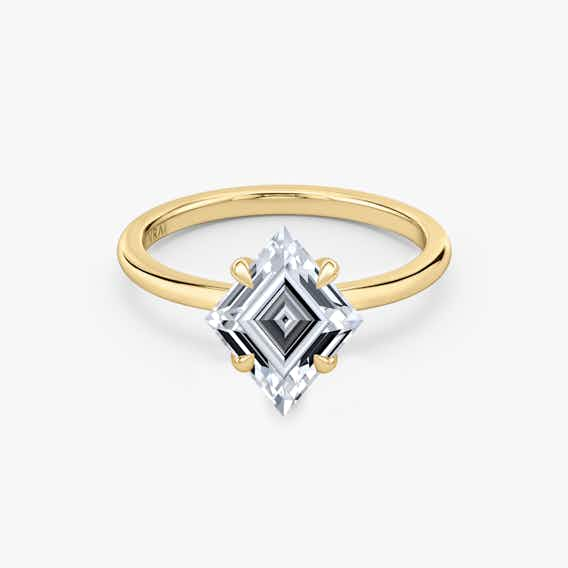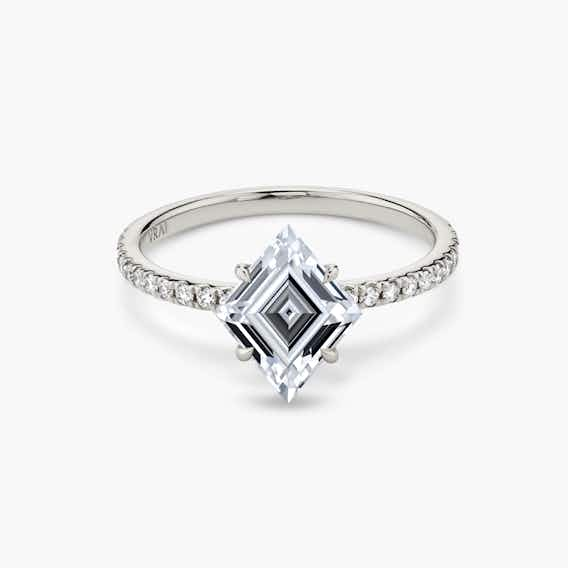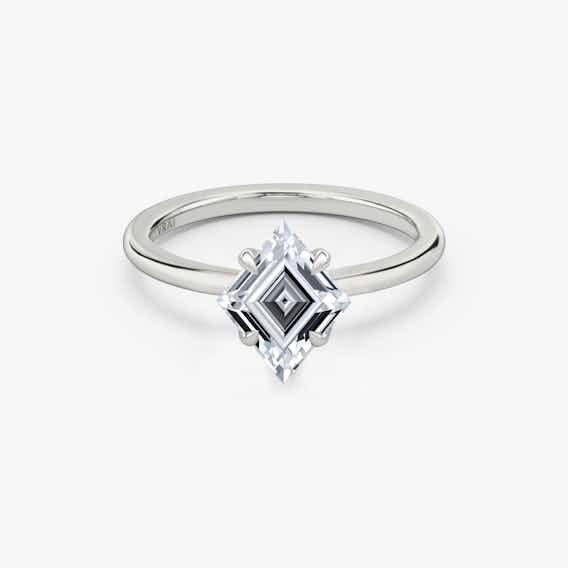 Get your complimentary ring sizer!
Measure your ring size for the perfect fit right from the start.
Order yours today
Bold Lozenge Cut Engagement Rings
Step-cut diamonds can be bold too when combined with maximalist bands or halo settings. The Halo will create a pleasant contrast between brilliant and step-cut diamonds; the Pavé Dome will pair the Lozenge's sleekness with a maximalist band, for a unique combination.; the Halo Dome is both vintage-inspired and utterly modern.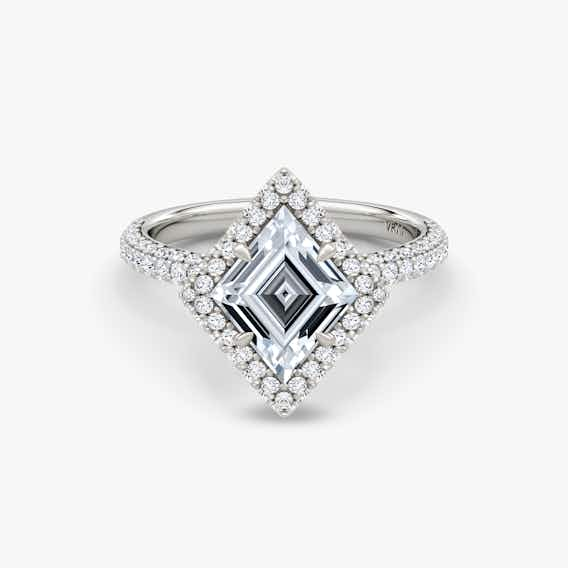 The Halo Dome in White Gold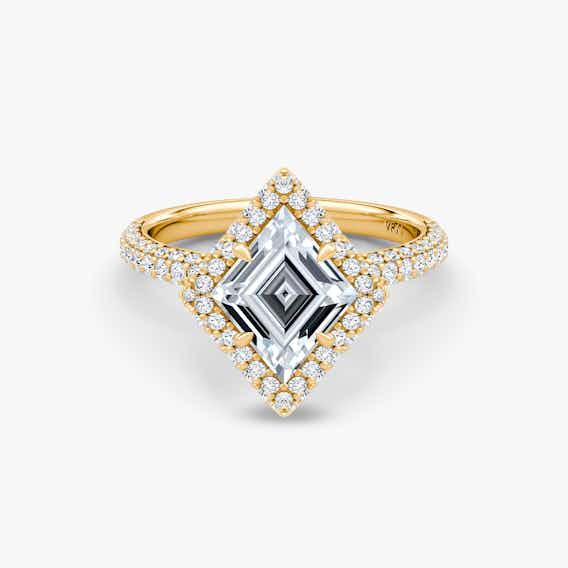 The Halo Dome in Yellow Gold
Modern Lozenge Cut Engagement Rings
With its art deco shape, Lozenge cut diamonds pair flawlessly with more modern settings. The Bezel highlights the sharp corners of the cut, and the Signature V is almost otherworldly in its delicate, yet pointed design. The Floating Solitaire plays with light and a subtle use of negative space to make the diamond shine even brighter.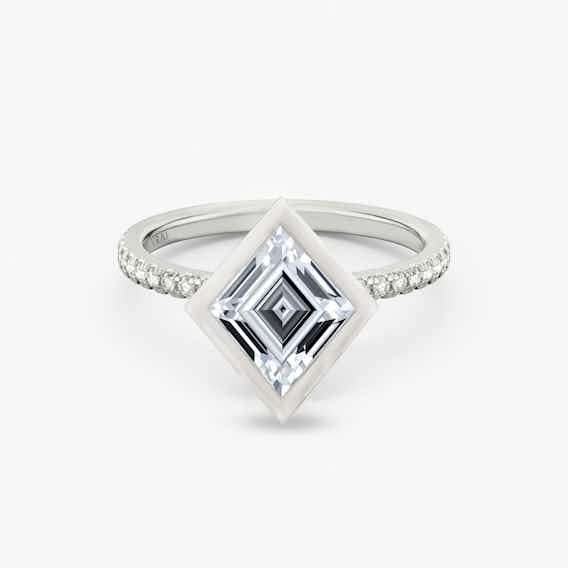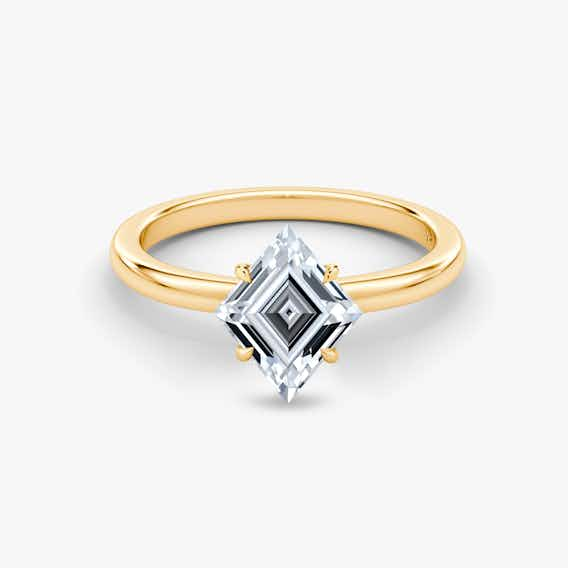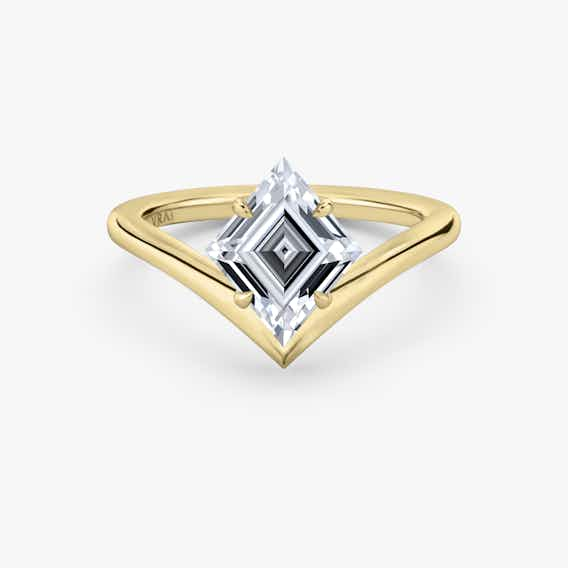 Shop Cut for You Diamonds With Our Experts
Lozenge cut diamonds are part of VRAI's cut for you program, which will allow you to have 31 different options to choose from when having your diamond cut.The Lozenge cut is both reminiscent of the Art Deco era and thoroughly modern. An expert will be able to educate you on features, and point you towards the best setting.