Necklace Layering Guide: How to Best Layer and Style Necklaces
Alicia Briggs | November 20, 2023
Alicia Briggs | November 20, 2023
Layering necklaces is a stylish and timeless trend that instantly elevates any outfit. With endless variations available, layered necklaces are a fun and creative way to express your personal style through jewelry. Use this guide to learn how to layer necklaces to ensure a balanced design that's always stylish. Discover our full collection of VRAI created diamond necklaces perfect for layering.
What Are Layered Necklaces?
Layered necklaces refer to when someone wears two or more necklaces at once. People layer necklaces to create their own statement pieces or to express their style.
What Order Do You Layer Necklaces In?
When layering necklaces, layer according to length. Start with your base necklace. This is usually your shortest necklace. Then choose which necklace to layer next based on length.
Each necklace should be a different length so that they don't tangle. They should also have a similar style or theme to ensure a balanced design.
Necklace Layering Lengths: Top 3 Variations
Most people layer two or three necklaces. When choosing which necklaces to layer, always select different chain lengths. You can start by sorting your necklaces by length. Organize your necklaces by short, medium, and long. This way, you can easily mix and match necklaces according to length to create numerous layered necklace variations.
Keep in mind that the lengths provided below will vary based on your height, body type, and neck width. If the measurements don't match for you, organize and choose your necklaces based on the guidelines for where they should fall.
Short Necklaces: 14-16 inches
Short necklaces will sit at the base of your neck or just above the collarbone. The shortest necklace you choose will be the base of your design. Your top necklace should have the smallest or lightest diamond, as it will sit comfortably and lie flat on a short chain.
Consider a diamond pendant or solitaire necklace to draw the eye to the top. Textured chains, chokers, or tennis necklaces also work well for the first necklace.
Medium Necklaces: 16-18 inches
Medium necklaces will lie on the collarbone or sit just below it. A simple embellished or textured chain necklace is an excellent choice for the middle necklaces. You can also choose to match the style of your base necklace but opt for a larger diamond or gem, or thicker chain. This helps create a cascading effect visually.
Some medium-length necklaces that are perfect for layering are our Tiny Station Necklace, Duo Lariat Necklace, or Solitaire Necklace.
Long Necklaces: 18-20 inches
A long necklace will dangle at the top of your bust or just below. Long necklaces often end with an accent point to complete the design. Your last necklace should have the biggest diamonds or gems, as they will hang better on longer chains.
A few of our favorite long necklaces include the Knife-Edge Bezel Station Necklace, Arc Necklace, and Medallions.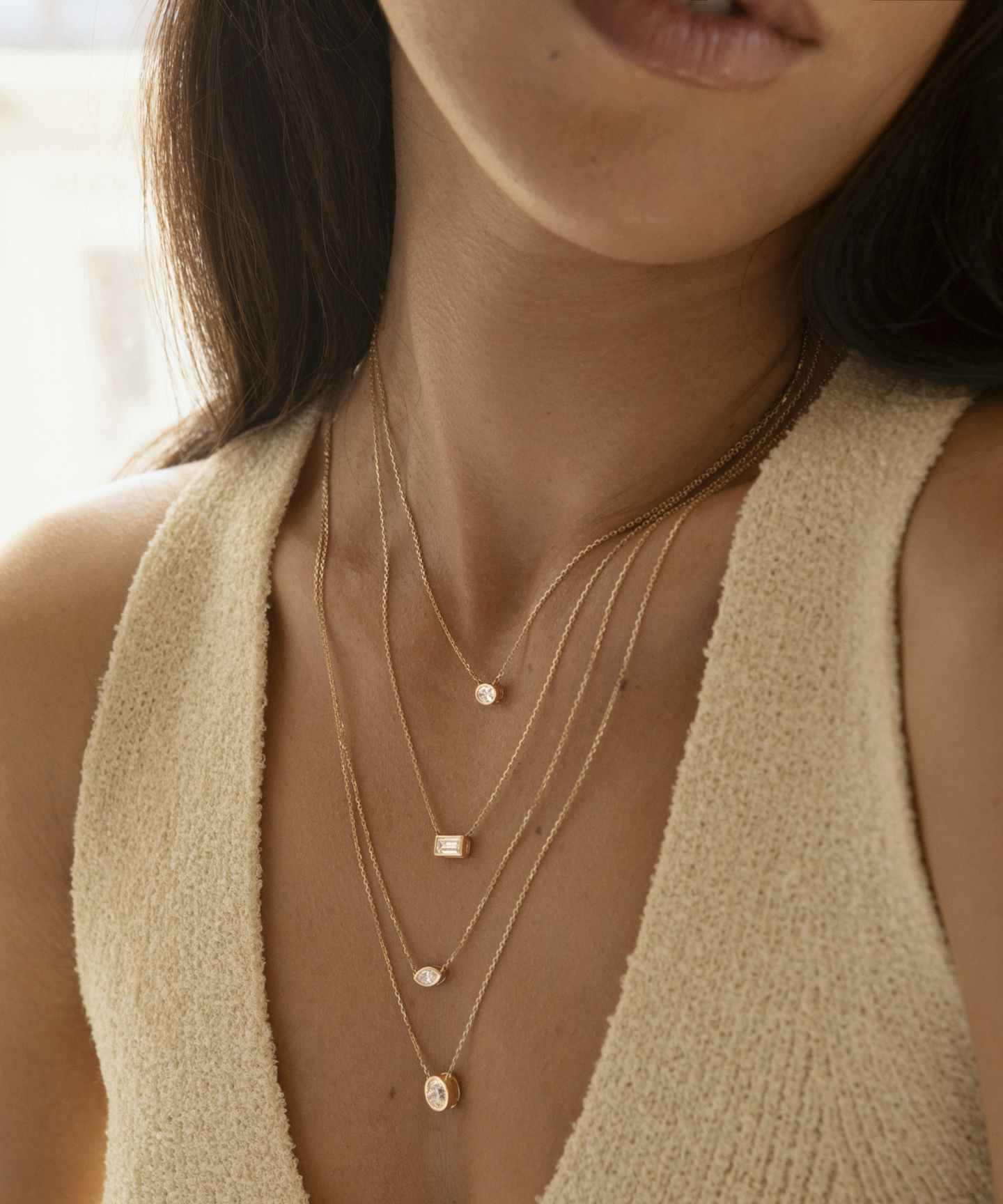 Stay in touch and enjoy $100 off
Sign up for email or text and receive $100 towards a VRAI purchase over $750.
How to Layer Necklaces Step-by-Step
Follow the steps below to easily layer and style your necklaces.
1. Choose Your Outfit
Your outfit will inform which necklace styles and lengths to layer. For example, choker necklaces don't pair well with high necklines. A brilliant array of diamond tennis necklaces may be too much for a casual tank top and shorts, but longer chain necklaces would look great. For a low-cut top, shorter necklaces will draw the eyes up whereas longer necklaces might sit awkwardly right at your neckline.
Once you've chosen your outfit, you can easily decide on the right necklace lengths and styles to pair with it.
2. Determine Chain Lengths
Each necklace should be a different length. The lengths you choose are up to you but try to create at least 2 inches between different styles of necklaces - especially if they are contrasting metals. Your necklaces should have enough space in between so that they won't tangle or rub against each other.
Play around with spacing to ensure an aesthetically pleasing design that creates a cascading effect. You may prefer to create even spacing or to choose tighter spacing for the top necklaces while letting the longer necklaces dangle dramatically. Experiment to create the look you love and that's flattering on you.
3. Build Around Top Necklace
The shortest necklace is known as your base. This necklace is typically the focal point and the other necklaces should be layered around this necklace. Your top necklace will determine the overall style and theme.
If you're overwhelmed, choose your favorite necklace as your base and start from there.
4. Pick a Common Theme
An easy way to ensure balanced and beautiful layers is to choose a common thread. Pick at least one detail to match. This could be the metal color, setting, diamond shape, or texture.
If you're not comfortable pairing different designs together, consider layering necklaces that are the same style. For example, solitaire necklaces will always pair well with other solitaire designs.
5. Start Small
If layering necklaces still feels daunting, start small. It only takes two to create a layered look. Too many necklaces can look busy, tangled, or clash.
If you don't have a specific vision just yet, start by layering two necklaces that are similar in style and comfortable to wear. This is a wonderful way to start playing around with creating contrast, as it's easier to mix and match two designs over several.
6. Experiment With Contrasting Details & Styles
Now that you're feeling inspired and more comfortable with layering, don't be afraid to play around. While matching layers will always stun, a design with contrasting details will stand out and reflect you.
Play around with different diamond shapes, angles, gems, and colors. Choosing necklaces with different metal colors, chain widths, textures, settings, and weights is a subtle way to add eye-catching juxtaposition.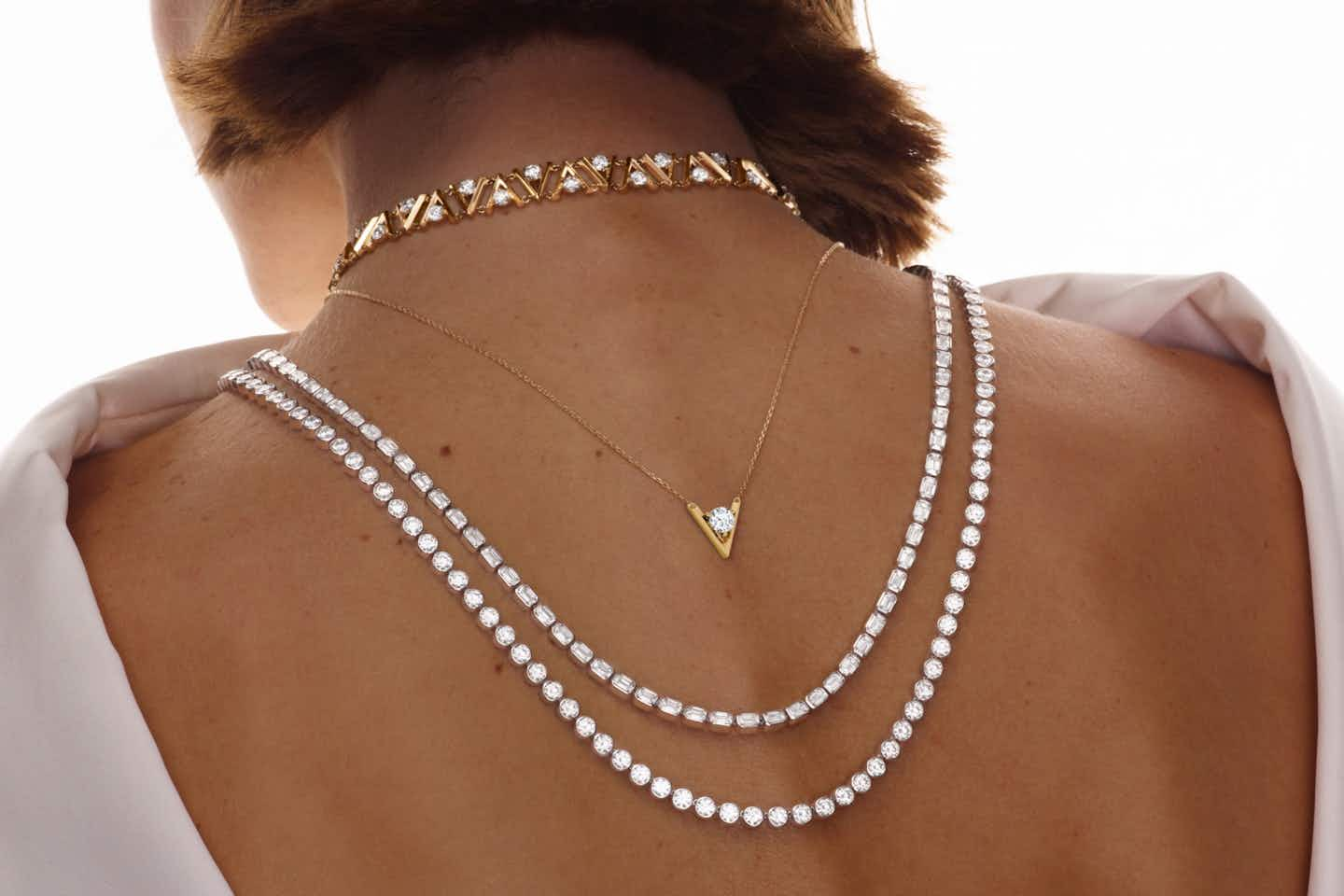 Necklace Layering FAQs
Read on for any lingering questions on how to layer necklaces.
What Is the Best Length for Layering Necklaces?
The best length for layering necklaces will vary based on your height, body type, neck width, and the neckline of your outfit. Most necklaces are between 16 and 20 inches. Necklaces between 14-24 inches will generally be easy and flattering to layer.
Is It Okay to Layer Necklaces?
Layering necklaces is a popular and enduring trend. It's a beautiful way to showcase your jewelry and your style.
How Do You Layer Two Necklaces That Are the Same Length?
We do not recommend layering any necklaces that are the same length. Necklaces that are the same length will get tangled when worn together, potentially damaging any precious gems or diamonds.
Pairing necklaces that are the same length will look busy and cluttered. It also hides the stunning details of each necklace. Choose necklaces of varying lengths to ensure balanced layers and to protect your necklaces.
How Many Necklaces Should I Layer?
To layer necklaces, you'll need to choose at least two necklaces. You can layer as many necklaces as you'd like, however. As long as the necklaces don't tangle and are still comfortable to wear, it's up to you how many necklaces to layer.
What Type of Chain Is Best for Layering?
Gold chain necklaces are the most popular chain necklaces. Gold chains will layer beautifully and safely together. Plus, it's easy to mix and match different gold chain colors.
Can You Wear Gold and Silver Necklaces Together?
You can absolutely wear gold and silver necklaces together. This is a popular metal combination and they can be safely worn together. No matter the metal, we always recommend choosing necklaces that won't rub together when layered.
Are Layered Necklaces Stylish?
Layering necklaces is a popular and stylish look. When layered correctly, layered necklaces are always stylish and stunning.
Explore VRAI Created Diamond Necklaces
Discover our full collection of necklaces made from recycled solid gold and premium sterling silver. VRAI necklaces are ideal for layering, with timeless matching styles and statement pieces to choose from.
All VRAI fine jewelry is the result of expert craftsmanship, unmatched in sustainability and quality. Our lab-grown diamonds are grown in the world's first zero-emission foundry. When you choose a VRAI necklace, you're choosing diamond jewelry that aligns with your values and your style.