Our Top 8 Favorite Christmas + Holiday Proposal Ideas
Looking to add a touch of holiday magic to your proposal? Discover our top 8 heartwarming and creative ways to pop the question during Christmas in this blog. From cozy fireside moments to enchanting winter wonderland settings, we'll guide you through unforgettable proposal ideas that will make your Christmas engagement unforgettable. Let the holiday season be the backdrop for your love story!
We've assembled eight of our favorite Christmas and holiday proposal ideas to help you get inspired and ready for yes. We've also added in tips from our diamond experts on how to choose the perfect engagement ring featuring VRAI created diamonds. Read on to learn about some of our favorite timeless and modern settings.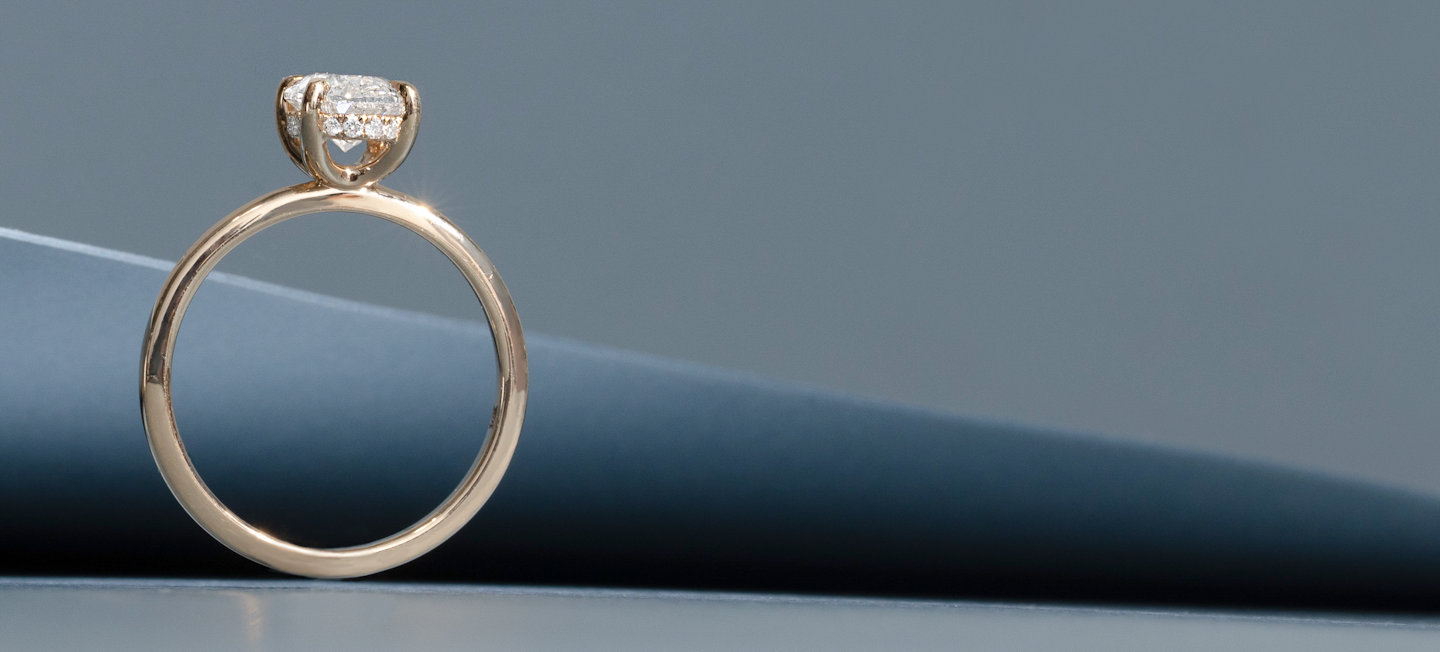 Stay in the know
Sign up for email or text to claim your $100 towards a purchase over $750 & indulge in VRAI!
8 Christmas and Holiday Engagement Ideas
1. Propose at a family gathering
For the couple who simply can't imagine celebrating their love without parents, siblings, and children nearby (even if nearby means a video call), a proposal during a family gathering is ideal. Let your significant other discover their engagement ring at the very end of exchanging presents or gathered around the table right before dessert is served.
The Classic Engagement Ring in our latest Two Tone setting is a family heirloom in the making. This vintage style setting has the look and feel of an engagement ring passed on from generation to generation.
2. Propose on a snowy day
For a truly special holiday engagement, why not let the cold weather work in your favor? To propose on a snowy day, set aside a few possible dates on your calendar and then keep an eye on the weather forecast. When the snow starts falling, it's the perfect moment to venture out to a romantic spot and pop the question. If you don't live in an area that receives snow in the winter, perhaps it's the time to plan a trip to the mountains or a snowy destination.
The Signature V Pavé Engagement Ring is a modern take on our Signature Solitaire setting. The design — where two sides embrace your chosen VRAI created diamond shape — can also be deeply symbolic for an intimate proposal, and the pavé setting is sure to shine bright in the snowy weather.
3. Propose at a famous Christmas destination
For couples who love all things Christmas, proposing at a famous Christmas destination is ideal. From the Christmas Tree in New York's Rockefeller Center to German Christmas markets to ice skating under the Eiffel Tower, there are perfect wintery landscapes all around the world to choose from.
Our Three Stone engagement rings come with an almost endless array of customization options, resulting in a personalized design. Let each of the three VRAI created diamonds symbolize important moments that have led you to this moment.
4. Propose while picking out a Christmas tree
Proposing while picking out a Christmas tree is a romantic way to start off the holiday season and your engagement. It's also budget-friendly and less reliant on wintery weather — although a little snow wouldn't hurt. Pack up a picnic feast, including a thermos full of hot apple cider — or chilled champagne — and head to your nearest Christmas tree farm. Once you've spotted the perfect tree, stop and propose to your perfect match.
The Cathedral setting is our modern rendition of a traditional design. The graceful arches and distinctive curvature of this engagement ring give it both contemporary and classic appeal, perfect for an engagement out amongst the pines.
5. Propose while holiday shopping
For those who love to be out on the town in the midst of all the hustle and bustle, why not propose while holiday shopping? Make a list of all the gifts you need and choose a quaint part of the city to go shopping together. When you're ready for a break, head to a nearby restaurant or wine bar and present your engagement ring featuring a VRAI created diamond as an early holiday gift. Where available,, make an appointment at VRAI's diamond showrooms to select a ring together.
Created to inspire joy, the Hover engagement ring features a floating solitaire diamond with surrealistic appeal. This mesmerizing ring shows off your diamond in an unexpected way, and is sure to stand out as the most beautiful gift of all after a long day of holiday shopping.
6. Propose while decorating your house for the holidays
While decking the halls, take a moment to light up your entire holiday season with a special engagement. After decorating your Christmas tree or hanging stockings over your fireplace, propose while taking in the beauty of all your hard work. Or ask them to help you search for one last decoration — and lead them on a scavenger hunt around the house that ends with finding the engagement ring you've selected.
Inspired by the beauty of two things coming together, the Duet engagement ring merges a balanced form with a graceful silhouette. A slender shape rounds out a refined profile that modernizes this classic ring style, making it the ideal vintage-inspired ring for a traditional holiday setting.
7. Propose at a holiday party
This season often includes gathering with your chosen family of friends for holiday parties. For the most tight-knit groups of friends, these moments together might be the ideal setting for a proposal. Whether it's a playful gift exchange, intimate dinner party, or night of dancing, coordinate with your group of friends to surprise your significant other with an engagement ring before the end of the night.
The Knife-Edge engagement ring is our contemporary rendition of a classic style. Sloping edges form a subtle meeting point creating an elegant silhouette with minimalist appeal. A slightly tapered band adds depth and dimension, spotlighting the brilliance of the diamond.
8. Propose on Christmas morning
Proposing on Christmas morning is classic but deeply personal and meaningful. Have your partner discover their engagement ring while opening presents, or hide the box at the bottom of their Christmas stocking. For those willing to create a little more suspense, wait until after all the presents have been opened and propose later in the day or during your traditional Christmas feast.
The Signature draws from the enduring simplicity of a classic solitaire engagement ring. As it is one of VRAI's most coveted engagement ring styles, you can be sure that it's modern-yet-timeless design will be the perfect finishing touch to your Christmas-morning proposal.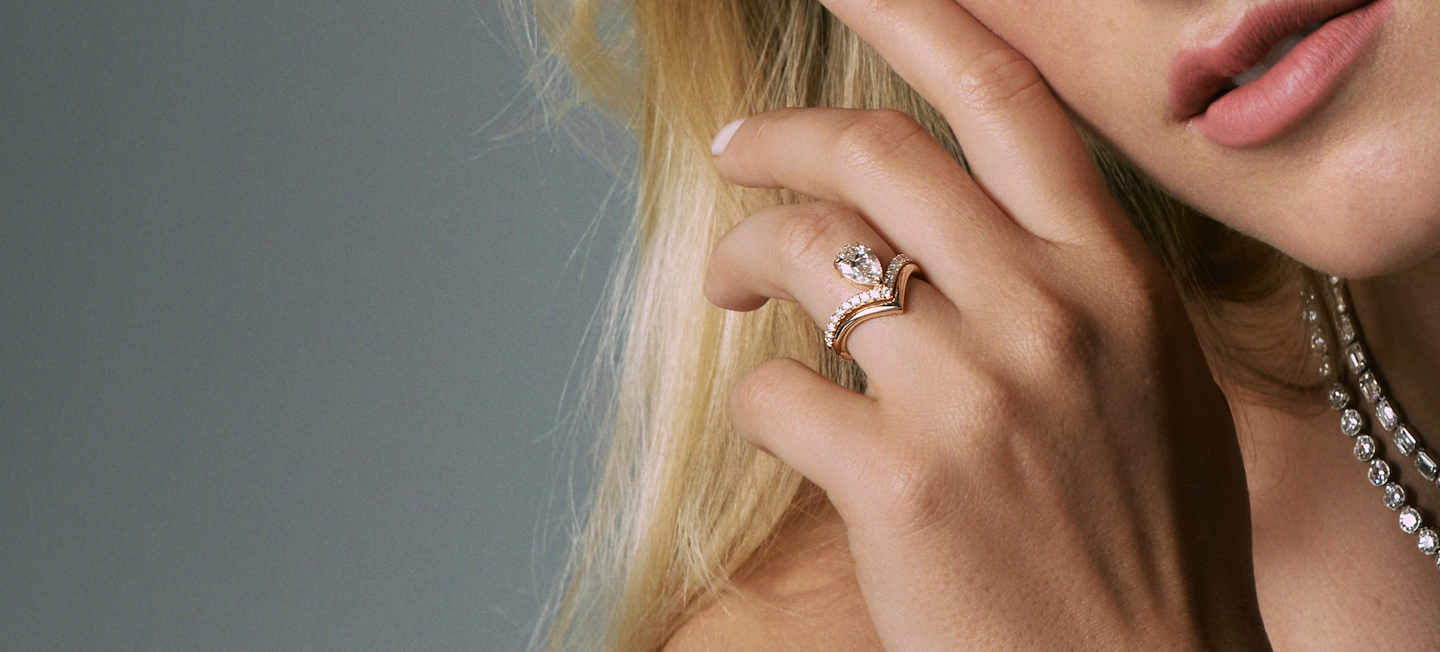 How to propose during Christmas and the Holidays
Before you pick the date and the perfect spot to propose, you need to find the engagement ring they'll say yes to. Here are a few tips to get you ready for the big moment.
Set a budget
Ideally, you'll start planning several months ahead of time and decipher how much you'd like to spend, as well as a monthly timeline to save up for your setting and VRAI created diamond. While visiting our Diamond Page, you can set filters to explore diamonds in 30 shapes and any size from 1 carat to 10 carats so you can select the one that falls within your budget. Because diamonds sustainably created by VRAI have no middlemen markups, the perfect diamond at an accessible price point exists for you! And don't forget that VRAI offers payment plans for those who qualify.
Talk to family and friends
It's perfectly normal to know almost everything about your significant other without knowing their engagement ring preferences! This is often a once-in-a-lifetime purchase. Your partner might have very specific requests that only a family member or best friend knows about. Do they want a Cathedral setting to resemble their grandmother's ring? Do they have skin sensitivities and only wear platinum? Would they like a plain band on their engagement ring but a pavé wedding band? Talk to those closest to them to garner as many details as possible.
Look at their current jewelry and diamonds
If you're planning a surprise proposal and still need help knowing what engagement ring to buy, look at their current collection of jewelry and diamonds. Chances are, they already have a metal color preference. Check to see if they wear yellow gold exclusively, or if they prefer platinum, white gold, or rose gold designs. If they mix metal colors, you might consider a rose gold band that would pair well with both yellow and white gold.
The same goes for any diamond jewelry they might already own. Are their Solitaire studs Round Brilliant or Emerald shaped? Does their favorite pendant feature a Trillion or Marquise? They will likely feel strongly about their favorite diamond shape and want the same VRAI created diamond featured in their engagement ring setting.
Book an appointment with our diamond experts
Perhaps the most foolproof way of preparing for your Christmas or holiday engagement is to book an appointment with our diamond experts. Whether you attend alone or as a couple, our team will guide you through settings, shapes, and styles to find the perfect ring. They'll also give you in-depth diamond education so you can choose a diamond that fits your needs and your budget. And lastly, they'll make purchasing and delivery easy and effortless.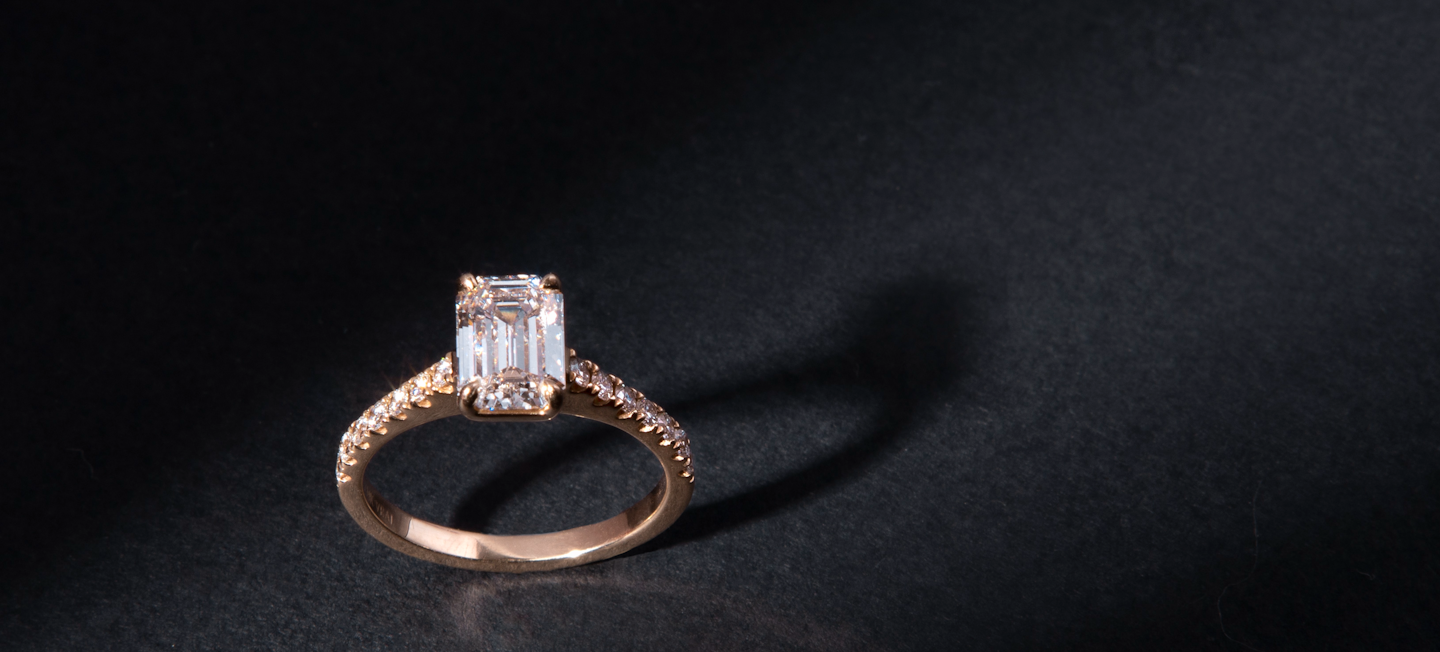 New Year's Wedding Proposals
Many times during the holiday season are perfect for proposals. But for the most social and party-loving couples, New Year's Eve might just be the perfect date to get engaged. While counting down to midnight, get down on one knee! And start the New Year off right with a new chapter in your life together.
The Hidden Halo Engagement Ring has all the shine and glamor of a festive end-of-year gathering, so it can remind you of your unique proposal for years to come. The center VRAI created diamond and its surrounding halo of handset pavé diamonds is nestled inside four prongs, creating an unforgettable luminary effect.