Are lab-grown diamonds real diamonds?
Are lab-grown diamonds real diamonds?
Lab-grown diamonds have ushered in a new era of sustainability, offering environmentally friendly choices in an industry historically dominated by mined diamonds. Lab-grown diamonds share the same physical, atomical and chemical properties of their mined counterparts and are recognized as real by consumer protection agencies.
Officially, the Federal Trade Commission (FTC) defines a diamond as "A mineral consisting essentially of pure carbon crystallized in the isometric system" and whether a diamond is mined or created, both share this chemical composition. The difference and designation between lab-grown and mined diamonds lie in the way in which it is created. Titles like "lab-grown" and "mined" designate origin; while mined diamonds are extracted through complex pit, underground or alluvial methods and utilize heavy machinery and an extensive amount of labor, created diamonds are made by replicating the way diamonds are made in nature with no negative environmental or human toll.
The difference between lab-grown and natural diamonds could be compared to the difference between ice formed outside on a winter's day versus ice that's formed inside your refrigerator.
Morbi eu ex at sapien porttitor commodo. Nullam tempus pulvinar sem ac feugiat. Aliquam mattis pretium maximus. Nulla et nunc neque. Donec a dui quis sapien rutrum hendrerit. Curabitur varius quam ac finibus sollicitudin. Vivamus et eros at purus ultrices viverra. Vestibulum arcu ipsum, semper nec laoreet vitae, rutrum sit amet ipsum. Duis at risus malesuada, lacinia lacus non, pellentesque ipsum. Orci varius natoque penatibus et magnis dis parturient montes, nascetur ridiculus mus. Proin id urna at lectus rhoncus bibendum. Aliquam tempus est sem, quis pellentesque elit semper sed.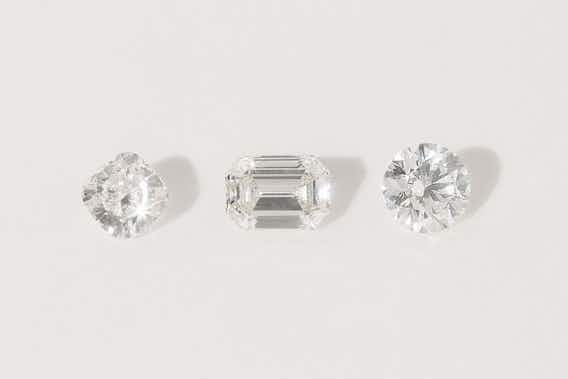 Diamonds Defined: The Ultimate 4Cs Guide
Understanding the 4Cs - cut, color, clarity, and carat - help you find the VRAI created diamond that is right for you and assures you as to its value.