Our Top 9 Favorite Valentine's Day Proposal Ideas
Even if you celebrate your love year-round, Valentine's Day is the perfect excuse to prepare a romantic surprise for your partner. It's also an ideal day to mark the occasion with a wedding proposal. This list of our Top 9 Favorite Valentine's Day Proposal ideas explores both traditional and creative ways to ask your beloved's hand in marriage.
No Valentine's Day proposal would be complete without timelessly romantic engagement rings styles, made all the better with diamonds sustainably created in our zero-emission foundry. Read on to discover how to propose on this special holiday with engagement rings featuring VRAI created diamonds.
Stay in the know
Sign up for email or text to claim your $100 towards a purchase over $750 & indulge in VRAI!
Our Top 9 Favorite Valentine's Day Proposal Ideas
1. Propose at a romantic destination
Whether climbing to the top of the Eiffel Tower, cozying up in a Venice gondola, or walking the beaches of your favorite tropical island, Valentine's Day is the day to take advantage of the world's most romantic destinations. Take in the beautiful scenery around you, pop open a bottle of champagne, and then pop the question you traveled so far to ask.
2. Propose at your favorite local spot
Celebrate the city you both call home with a night out in your hometown. What wine bar do you both love to go to for special occasions? What local landmark is your shared favorite? Is there a boutique hotel or bed-and-breakfast where you've always wanted to stay? Add each of these sites to the list for one very special day together.
3. Propose at your favorite restaurant
From a favorite local cafe to a Michelin-star restaurant you'd travel around the world to experience again, let your favorite meal together be the inspiration for your proposal. Speak to the chef or staff beforehand and ask them to help be a part of the surprise.
4. Propose over a home-cooked meal
Turn what would seem like a low-key night at home together into the most romantic moment of your life. Make a menu with all of your favorite dishes and savor the moments spent cooking, talking, and laughing together. Before it's time to sit down and enjoy your meal, propose over your candle-lit table for two.
5. Propose where you first met
Maybe you met at the gym, at work, or out grocery shopping… it doesn't matter if the original place you met isn't stereotypically romantic. Give your proposal a deeply sentimental and thoughtful twist by retracing your steps back to the place where it all began.
6. Propose while pampering
Book a day at a spa complete with a couple's massage, or luxuriate at home with bath salts, scented candles, and bubbly. After you both feel like this indulgent day couldn't get any better, end it with a heartfelt proposal.
7. Propose with Valentine's Day staples
Whether you love traditional Valentine's Day gifts or you want to use them in a playful manner is up to you. But a heart-shaped box of chocolates, a dozen red roses, or a handcrafted Valentine are sweet and sentimental presents to offer alongside an engagement ring on this day.
8. Propose in nature
Depending on where you live, February 14th might be warm and sunny, or cold and snowy. Prepare for the elements ahead of time and venture out to your favorite trail through a forest, body of water, or mountainous peak. Let the beauty of nature be the ideal backdrop for this day that will change your life.
9. Propose with a sentimental keepsake
Surprise your partner with what they think is going to be a sentimental Valentine's Day gift — a collection of poetry, an antique jewelry box, or a small piece of art that inspires them. While they're busy gushing over this thoughtful gesture, offer them their true Valentine's Day gift.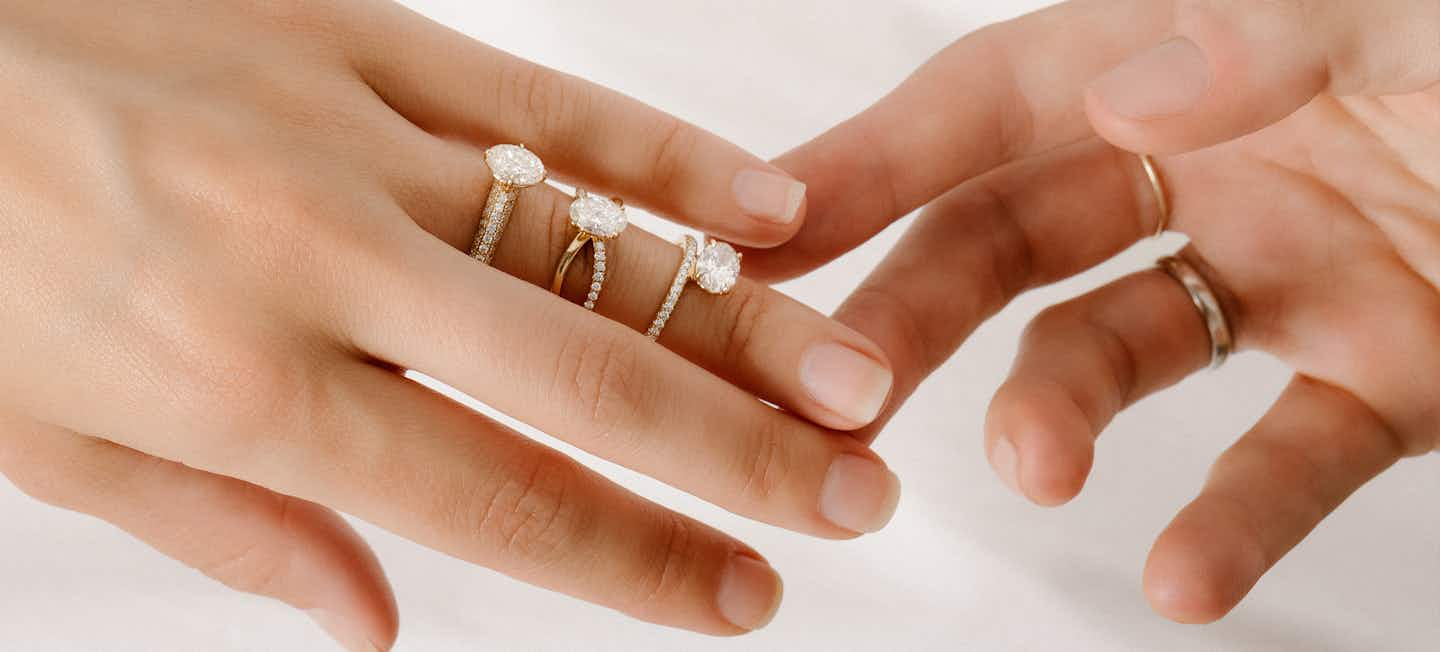 Top 3 Most Romantic Engagement Rings for Valentine's Day
These three deeply symbolic and sentimental styles are perfect for offering on the most romantic day of the year.
1. The Three Stone featuring Marquise shaped diamonds
The Three Stone setting represents the past, present, and future of your relationship. Coupled with historically-inspired Marquise-shaped diamonds, this engagement ring embodies the spirit of a classic love story.
2. The Signature V Pavé featuring a Pear shaped diamond
The two sides of the plunging V gently surround the center stone for a look that is reminiscent of a loving embrace. The Pear shaped diamond at the center represents tears of joy.
3. The Duet featuring a Round Brilliant shaped diamond
Two twisting bands unite together as one in this vintage-inspired engagement ring setting. At the center is a Round Brilliant shaped diamond, whose circular form is symbolic of unity.
How to Prepare for Your Valentine's Day Proposal
Selecting an engagement ring ahead of time is the most crucial part of preparing for the proposal. Be sure to study your partner's taste in jewelry and speak with family and friends to find out their preferences. Find out their ring size ahead of purchase, too.
An engagement ring featuring VRAI created diamonds can be purchased on VRAI's website or by speaking with a VRAI diamond expert virtually or in person.
Speak with our diamond experts
There is no rule saying that your engagement has to be a surprise (even if the proposal is). For many couples, the best way to prepare is to sit down and discuss if they're ready to take the next step, as well as decide on certain elements like what style of engagement ring they'll want.
Booking an appointment with a diamond expert — either solo or as a couple — allows you to explore settings and VRAI created diamonds with personalized guidance. You'll also receive in-depth diamond education and an understanding of VRAI's Lifetime Care Package, so you can choose your engagement ring with confidence and focus on the romance of Valentine's Day.